Looking for Banda MS outside the UK?
Check out one of our international sites.
Take me there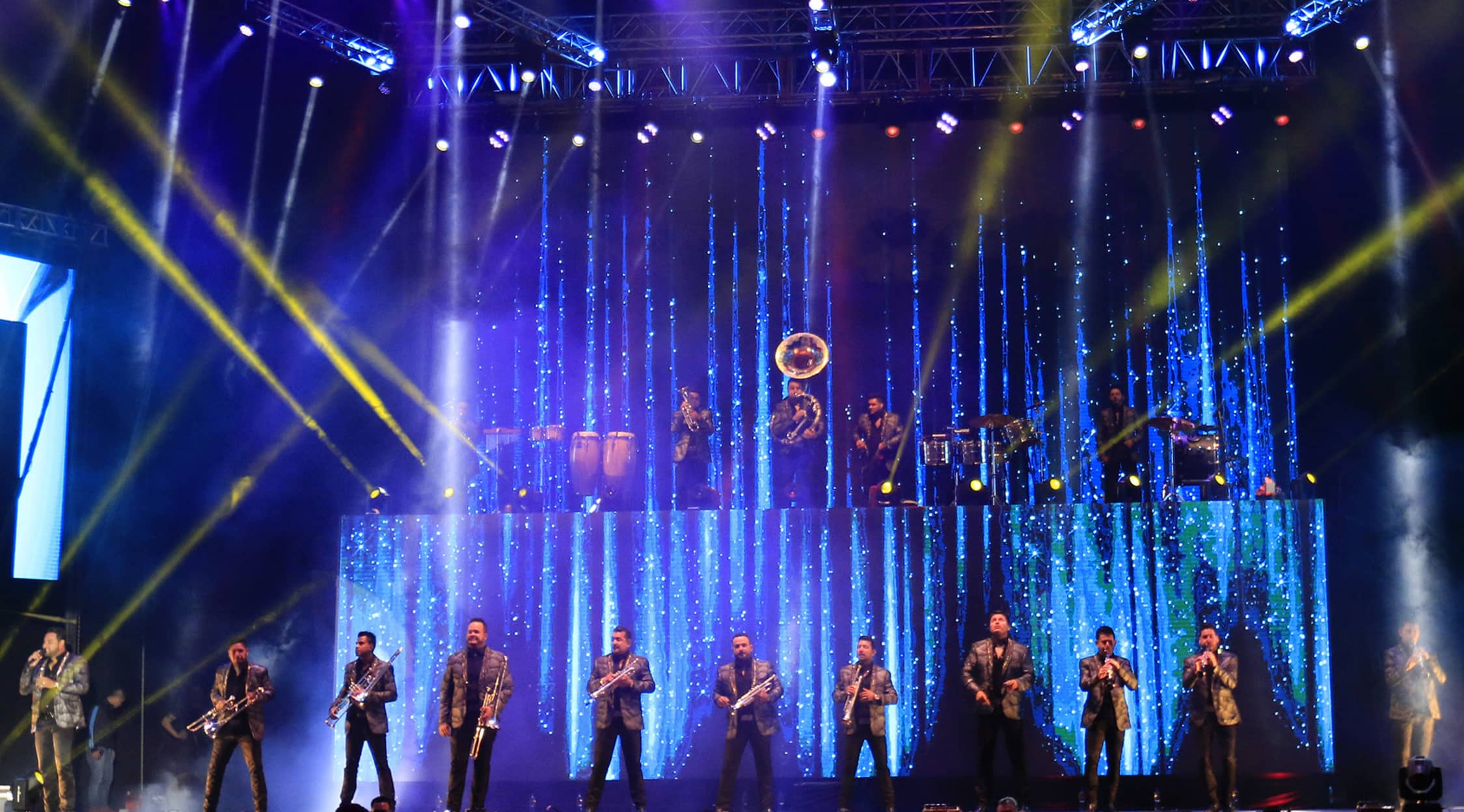 Zuma
Banda MS Tickets
Banda MS Tickets
Founded in 2003, Banda MS originally performed as Banda Sinaloense MS de Sergio Lizárraga. This regional Mexican band has released 13 studio albums beginning in 2004 with No Podras." The prolific musicians followed it with an album per year, skipping 2007 and 2010. In concert, you may hear selections from 2005's Mi mayor anhelo or the following year's La Raza Contenta. After its break year, the band recorded Escuela de rancho in 2008 and En preparación in 2009. After another break, the band released eight albums in a row, beginning with 2011's Amor enfermo, Mi razón de ser in 2012, 10 aniversario in 2013, No me pidas perdón in 2014, En vivo Guadalajara-Monterrey in 2015, Que bendición in 2016, La mejor versión de mí in 2017 and Con todas las fuerzas in 2018.
Talent Recognized
Despite its long history, Banda MS began receiving awards recognition in 2012 with its first nominations. It won its first award at the Premios Banda Max for the "Most Requested Video." Premio Bandamax's 2014 Song of the Year award for "Hermosa Experiencia" and Band of the Year also went to the band, plus Premios De La Radio's 2014 Song of the Year award for "Hermosa Experiencia" and Band of the Year. In 2015, it also won Premios De La Radio's 2015 Artist of the Year award, the 2015 Billboard Latin Music Award for Regional Song Of The Year and Hot Latin Song for "Hermosa Experiencia." It followed it in 2016 with Billboard Latin Music Award's Hot Latin Song and Regional Mexican Song for "Banda MS" and Billboard Music Award's Band of the Year and Artist of the Year. Its songs received multiple accolades that year, winning the Latin American Awards for Favorite Regional Album for Que Bendición" and Favorite Regional Song of the Year for "Solo Con Verte." Premio La Radio awarded it Artist Of The Year and Regional Mexican Group or Duo of the Year and Band Of The Year for its album Que Bendición and Band Song Of The Year for "Me Vas A Extranar." In 2017, Banda MS won Premio Lo Nuestro's Regional Mexican Song for "Solo Con Verte" and Regional Mexican Album for Qué Bendición as well as Premio de la Radio's Band of the Year. It won the Latin American Award for Regional Mexican Group or Duo of the Year, the Hot Latin Song award and Regional Mexican Song Billboard Latin Music Award, plus Regional Mexican Song Of The Year for "Solo Con Verte" and iHeartRadio's Music Award for Regional Mexican Song Of the Year for "Solo Con Verte."
Where can I buy Banda MS tickets?
Always check at StubHub first for the best Banda MS tickets. At StubHub, you can see detailed venue diagrams that show accessible entrances and seating.
Who are the members of Banda MS?
The current lineup of members consists of brothers Albert and Sergio Lizárraga, who founded the band, trumpeters Ricardo and Elias Nordahl, clarinetist Jairo Ozuna, tambora player Yahir Ozuna, vocalist Alan Ramírez, singer Jimmy Hernandez, singer Oswaldo "Walo" Silvas, singer Cristóbal "El Twin" González, clarinetist Pavel Ocampo, trumpeter Elías Nordahl Piña, trumpeter José Francisco Iturralde, harmony singers Nicolás Tiznado, José Osuna and Francisco Hernández, trombónists José Viera and José Rojas, tuba player Roberto Frausto, drummer Christian Osuna and tarolas player Luis Fernando Osuna. The band's former vocalist, Julión Álvarez, left the band in 2007.
What can I expect from a Banda MS concert?
Banda MS stages a massive show. The members wear matching outfits and sing the entire show in their native Spanish. Whether the band plays an arena or a small hall, its audience dances in the aisles and any empty spaces. The audience also sings along to most songs.
What is Banda MS's tour setlist like?
Banda MS plays secretive sets. Its fans do not post setlists online, nor does the band publish it to their website. The main set selections included "Es tuyo mi amor," "Solo con verte," and "Tengo que colgar."
Will Banda MS tour in 2019?
The band hit the road for its 2019 tour beginning in July. It will play a mixture of festivals and small club dates.
Is Banda MS coming to a city near me?
The band's 2019 US tour will take it cross-country, and it has shows planned for Mexico. The band plans to have shows in Duluth, Ga., Washington, D.C., and Santa Barbara, Calif.
Back to Top
Epic events and incredible deals straight to your inbox.