Looking for Ramon Ayala outside the UK?
Check out one of our international sites.
Take me there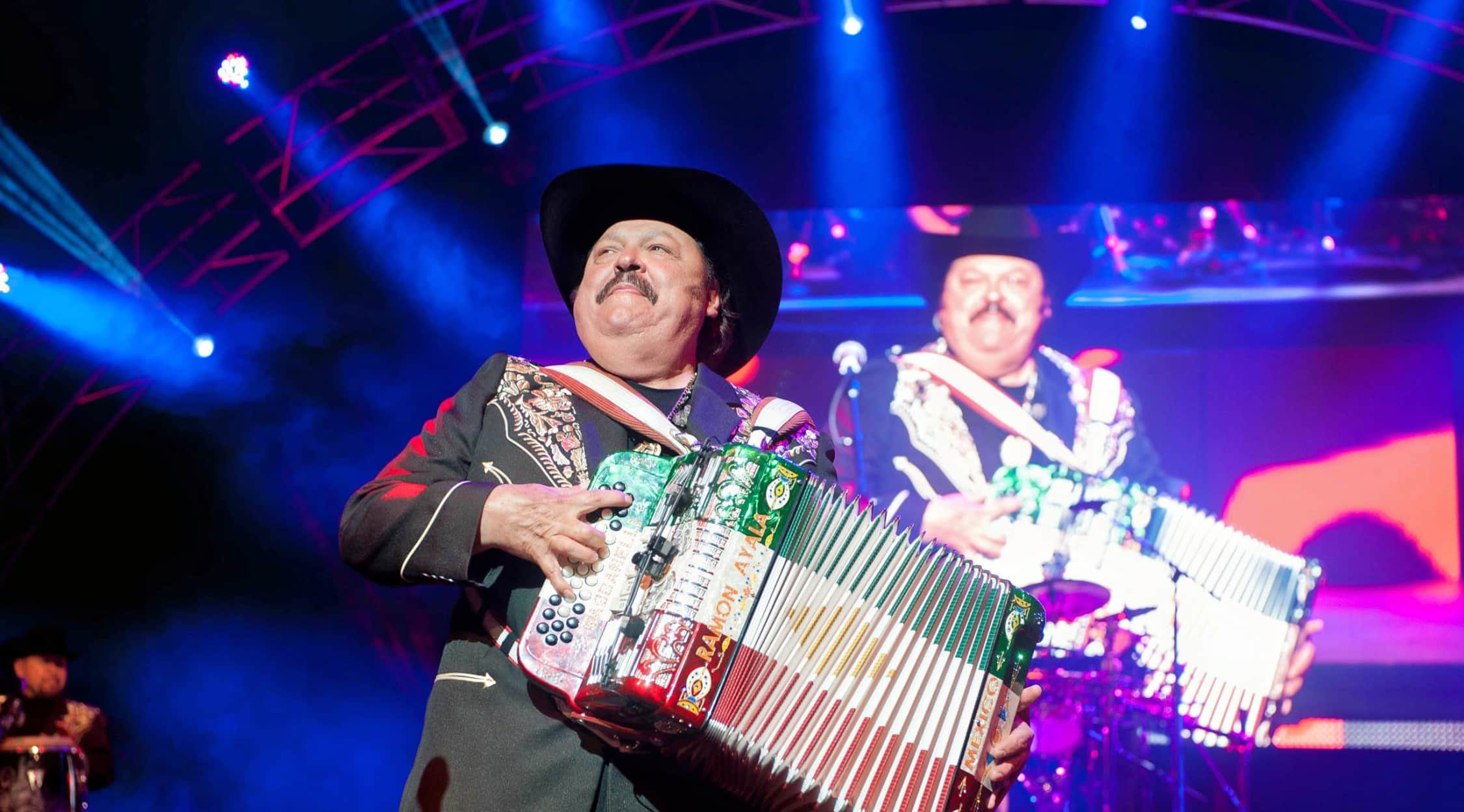 Zuma
Ramon Ayala Tickets
Ramon Ayala Tickets
An accordion master and the godfather of contemporary norteño music, Ramon Ayala has made music that showcases Mexican and Mexican-American life for nearly 50 years, earning beloved fans for his recorded music and live performances. At only 5 years old, Ramon Ayala would pick up his first accordion under the guidance of his father, who was also a musician at the time. Throughout the years, he would hone his skills, and by the time he was a teenager, he was already a remarkable player. Later on, Ayala would move to Reynosa at the age of 15 where he would meet a young Cornelio Reyna and form Carta Blanca, which would then evolve into Los Relampagos del Norte.
Ramon Ayala's Journey
Taking what was essentially cantina music, Los Relampagos would go on to elevate the lyrical content and overall musicianship, which allowed them to find an enthusiastic audience among migrant workers in the U.S. Their first ever hit was "Ya No Llores" in 1963. Over time, the group's appeal began to expand, and Los Relampagos enjoyed nearly 10 years in the spotlight before Reyna decided to pursue a solo career in 1971. Ramon Ayala would go on to form Los Bravos del Norte out of the last of Los Relampagos. The group became incredibly successful, gathering multiple Grammy nominations over the years and influencing future generations of norteño musicians.
Where can I buy Ramon Ayala tickets?
If you are looking to enjoy an exceptional experience at a live concert, buy your Ramon Ayala tickets at StubHub. The largest ticket marketplace on the planet, StubHub offers its customers a FanProtect guarantee ensuring your transaction is completely safe and secure.
What are some popular Ramon Ayala albums?
Some of Ramon Ayala's best-known albums include El Soldado Raso, Debajo De Aquel Árbol / Cuatro Caminos , Puñalada Trapera, Una Carta, Dos Hojas Sin Rumbo / Enséñame A Olvidar and Tristes Recuerdos / Aferrado Por Ti. You can expect to hear an assortment of songs from these albums at any live Ramon Ayala concert. These albums are beloved among his fans, and he regularly sprinkles his classic hits throughout his performances.
Where is Ramon Ayala playing?
Ramon Ayala is currently sweeping through venues across both Mexico and the US. Some of the cities Ayala will be performing will include Paluma Valley, Calif., and Durango Ciudad, Mexico. Don't miss your chance to see a Ramon Ayala concert at venues such as the United Wireless Arena located in Dodge City, Kan., or the Star of the Desert Arena in Primm, Nev.
Which artists are similar to Ramon Ayala?
Ramon Ayala fans may also enjoy artists such as Los Tigres Del Norte, Intocable and Fidel Rueda.
How many Grammy Awards has Ramon Ayala won?
Ramon Ayala has been nominated for eight Grammy awards throughout his career and took home two. In 2001, Ramon Ayala won the award for the best Mexican/Mexican-American Album for En Vivo, El Hombre Y Su Musica, and in 2010, he took home the Grammy for Best Norteño Album for Classic. In 2004 and 2005, Ayala was nominated for best Mexican/Mexican-American Album for his incredible hits "Ya No Llores" and "Titere En Tus Manos."
What songs might I hear on the Ramon Ayala setlist?
A career spanning over 50 years provides Ayala with a plethora of songs to perform for his audience. Fans can expect Ayala to perform some of his best-known and most beloved songs such as "Cuando Yo Era Un Jovencito," "El Federal de Caminos," "La Casa de Madera," "Chaparra de Mi Amor," "Vestida de Color de Rosa," "Un Rinconcito En El Cielo," "Ya No Llores" and "Bonita Finca de Adobe," to name a few.
Back to Top
Epic events and incredible deals straight to your inbox.