quick & easy

Sell event tickets from any device in a few steps

massive audience

Over 100 million fans buying 1.3 tickets per second on StubHub

secure

We'll help get your tickets to buyers wherever you are

get paid

Receive payment from StubHub directly
The StubHub platform simplifies the selling process from beginning to end. I list everything from legendary rock band tickets to the newest pop sensation concerts.
Ben
- Los Angeles, California
Sells Music & Sports Tickets
StubHub made selling my Billie Eilish tickets last minute really fast and easy! They sold in just a day and for more than what I had listed them on other places.
Julia
- San Francisco, California
Sells Music Tickets
Extra tickets before an event? It has never been easier to sell tickets using StubHub. I would recommend it to anyone who is looking to sell tickets.
John
- Swarthmore, Pennsylvania
Sells Music Tickets
I've had great success with selling tickets on StubHub, even for those last-minute tickets. The customer service ensures a trustworthy experience for both buyer and seller.
Sells Music & Theatre Tickets
Compare Prices
See what prices others have listed their tickets at so you can see how your listing compares.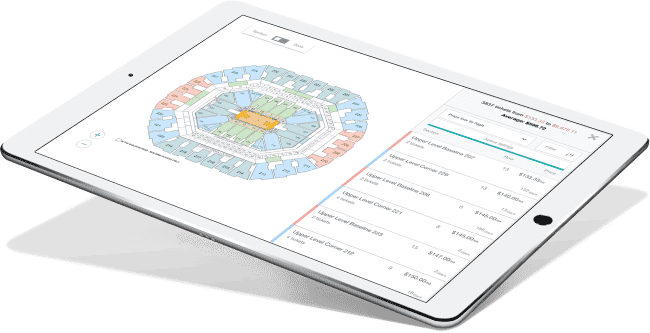 Selling FAQ
How do I sell tickets on StubHub?

It's easy!

1. Sign in or create a StubHub account to get started selling tickets.

2. Include the number of tickets you're selling, the seats, and delivery details in your listing.

3. Set your price and wait for the buyers to come to you!.

How can I sell concert tickets on StubHub?

We've made it impossibly easy to list your tickets on StubHub.

Thanks to our massive catalog of events, you can sell tickets to almost any event in just three steps! Just sign in, tell us what concert tickets you're selling, and set your price.

How can I sell mobile tickets on StubHub?

Listing on StubHub is as easy as 1-2-3

Just sign in to the app or on your mobile browser, tell us what tickets you're selling, and set your price. When you have a buyer, we'll give you the added benefit of providing instructions on how to deliver the tickets to them.

What options do I have to deliver tickets I sell on StubHub?

Mobile transfer

Tickets are in the online account where you bought them (the team, Ticketmaster, etc.)

Flash Seats

Mobile-only tickets stored in a Flash Seats (AXS) account.

Barcode

Tickets that use barcodes to validate. Enter the barcode on your tickets to deliver them.

Paper tickets

Traditionally-printed tickets, wristbands, or tickets printed at home.

PDF tickets

Original .PDF files on your computer or mobile device.

Pick up tickets

Hard tickets you can deliver to one of our Last Minute Services (LMS) location.
More