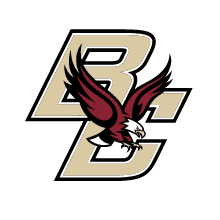 Boston College Eagles Football
Boston College Eagles Football Tickets
Official Ticketing Partner of Boston College Athletics
Looking for Boston College Eagles Football outside the UK?
Check out one of our international sites.
Take me there
Boston College Eagles Football venues
Boston College Eagles Football Tickets
Boston College Eagles Football Tickets
In 1893, Queen Victoria was the reigning monarch of the United Kingdom, Sir Arthur Conan Doyle published the famous short story that killed Sherlock Holmes and the Boston College Eagles played their first American football game.

As one of the first "Major College" American football teams in the New England region of the United States, the Eagles have developed a storied history complete with a famous rivalry with Holy Cross Crusaders that drew record crowds for over half a century. The team still plays against many famous American college football teams, so if you love Bean Town sport, consider getting some Boston College Eagles Football tickets and cheer them on to victory.
Important Games During the Eagles Fall Schedule
As a Division I-A team, the Boston College Eagles play against some of the best teams that American university football programmes have to offer. Due to their membership in the Atlantic Coast Conference, the Eagles are cross-division rivals with Virginia Tech. Boston College also plays against in-state rivals University of Massachusetts, and the Syracuse Orange in nearby New York state.
Boston College American Football Team History
Boston College's historic American football programme has included dozens of top players, such as Heisman Trophy winner Doug Flutie and Heisman finalists Matt Ryan and Andre Williams. Jeff Jagodzinski left a position with the Green Bay Packers to coach the Eagles and lead them onto two division victories from 2007 through 2008. The College Football Hall of Fame also recognises the talent of other top Boston Eagles coaches, such as Gil Dobie, Frank Cavanaugh and Frank Leahy.
The Enduring Legacy of the Boston College Eagles
As one of the United States' first American football teams, Boston College quickly achieved prominence as part of a group of the six best programmes in New England. However, when most of their Ivy League competitors were reclassified as part of smaller college sport-division teams, Boston College became the only team eligible for Division I-A classification in 1981. After the reclassification, their rivalry with the College of the Holy Cross cooled, and their rivalry with the only other Catholic university in their division, Notre Dame, became a focus of sports writers and fans. The continued popularity of the Boston College Eagles lead the college to build Alumni Stadium to house the large crowds that come to home games.
What to Expect When Attending an Eagles Game
At home, the Boston College Eagles attract a multi-generational fan base that all wears maroon and gold to support the team. If you don't have a Boston Eagles jumper, at least avoid wearing their rival's orange clothing. At the beginning of the game, you'll have a chance to enjoy the United States' oldest fight song, "For Boston."A Boston-local band, the Dropkick Murphys, covered the fight song in 2001, so you may hear the updated punk version at the games. Also be sure to stay for half-time, when Boston College's Screaming Eagles marching band performs.
Similar American Football Teams
Once you have your Boston College Eagles American Football tickets, consider watching a game with featuring rival Syracuse Orange or "Holy War" adversary the Fighting Irish from Notre Dame.
Back to Top
Epic events and incredible deals straight to your inbox.