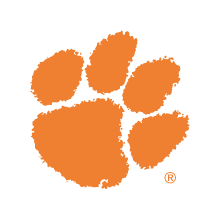 Clemson Tigers Football Tickets
Official Fan to Fan Ticket Marketplace of the Clemson Tigers
Looking for Clemson Tigers Football outside the UK?
Check out one of our international sites.
Take me there
Clemson Tigers Football tickets
Team: Clemson University Tigers
Home Field: Clemson, S.C.
Stadium: Memorial
Conference: NCAA Atlantic Coast
Head Coach: Dabo Swinney
Titles: 3 National, 24 Conference, 7 Division
Clemson Tigers Football Tickets
Formerly of the Southern Intercollegiate Athletic Association until 1921 and the Southern Conference until 1952, the Clemson University football program makes waves wherever it goes. Clemson has four SIAA Conference titles and two SoCon Conference titles along with 18 Conference championships from its current conference. The Tigers plays on Frank Howard Field in Clemson, which is in the northwestern part of South Carolina. The most notable achievement of the Clemson Tigers thus far is the team's 44–16 domination over Alabama in the National Championship in 2019. Clemson University Football was established in 1896 by Walter Merritt Riggs who brought it from Auburn University, then Mechanical College of Alabama. His squad chose the mascot after that of the current national champions from Princeton University. The team's greatest rivals are South Carolina, followed by Florida State and Georgia Tech and recently, Alabama. Three players inducted into the College Football Hall of Fame are Jeff Davis, Terry Kinard and Banks McFadden. Grab your Clemson Tigers tickets at StubHub.
Who is the head coach for the Clemson Tigers?
Dabo Swinney started as an interim coach in 2008 with the departure of Tommy Bowden after a disappointing midseason performance. Swinney finished a 3–3 start to the season with a 7–6 record. In 2011, he led the Tigers to its first ACC Title since 1991. The Clemson Tigers would go on to achieve an 11–0 record in 2012. Subsequent years under Swinney has seen the Tigers ranked No. 2 or higher 2016–2018 by the AP Poll.
How big is Memorial Stadium?
Memorial Stadium, respectfully nicknamed " "Death Valley," " has a capacity of 81,500 fans. It sits on the western part of Clemson University's campus. When it was built in 1942, it could only hold 20,500 fans. Carl Lee and H.E. Glenn were responsible for its design. Sideline seats to the tune of 18,000 were added in 1956. That turned out to not be quite enough for eager attendees, and 5,658 seats were added to the west end zone. Renovations in 1972 saw classic cedar seats replaced with aluminum. In 1978, engineers added the first upper deck on the south side. Top Deck North came in 1983, bringing the capacity a little beyond 80,000. Memorial Stadium achieved its present size in 2009 by bringing over the football offices to the WestZone and building training and conditioning facilities. The Clemson Tigers saw a record 86,092 fans attend when the team hosted the Florida State Seminoles in 1999.
Does the Clemson Tigers have any historical rivalries?
Clemson Football's biggest rival is unarguably its intrastate contender, The University of South Carolina. The two teams met 57 consecutive times on the Gamecocks' home turf for Big Thursday before Clemson hosted USC on Nov. 12, 1960. The Clemson Tigers won 12–2. From then on, the teams have been on a home-and-home schedule. Since 1896, Clemson has a 70–42–4 record against USC. Its worst performance against USC was between 2009 and 2013 when it lost five straight rivalry games, largely at the hands of quarterback Connor Shaw. The clash between teams is called the Clemson - South Carolina rivalry. Some refer to it as the Carolina - Clemson rivalry.
What was the Clemson Tigers football record last season?
The Clemson Tigers went 15–0 during the regular season in 2018. It was 8–0 in conference play. This culminated in an ACC Championship title, a Cotton Bowl Classic win over Notre Dame and a National Championship in a rout over Alabama. The team ranked No.1 in the Coaches and AP Poll.
What are the top games for the Clemson Tigers football this year?
Projected to carry on much of the same from last year, the Clemson Tigers has two big games for 2019. Texas A&M, who Clemson plays early, has a powerful passing game it can employ against a relatively young and inexperienced defense. In 2018, Kellen Mond passed for 430 yards against Clemson. The very next game will be away against a challenging Syracuse Orange, who beat the Tigers in 2017 and almost upset the team in 2018. Syracuse, whose offense is already known for a fast-paced and dynamic passing game, comes with changes and new depth.
Back to Top
Epic events and incredible deals straight to your inbox.