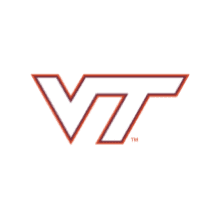 Virginia Tech Hokies Football
Virginia Tech Hokies Football Tickets
Official Ticket Marketplace of Virginia Tech Athletics
Looking for Virginia Tech Hokies Football outside the UK?
Check out one of our international sites.
Take me there
Virginia Tech Hokies Football venues
Virginia Tech Hokies Football tickets
Team: Virginia Tech Hokies
League: Atlantic Coast Conference in NCAA football
Home Games: Lane Stadium, one of the top 50 largest college football stadiums in the nation
Coach: Justin Fuente
Conference Championships: Virginia Tech won the ACC four times and the Big East three times
Great Hokies: Michael Vick, Frank Beamer, Bruce Smith, Corey Moore
Rivals: Virginia, West Virginia, Georgia Tech, Miami, Boston College
Virginia Tech Hokies Tickets
Virginia Tech has been a perennial powerhouse in the ACC since joining the league in 2004. With Michael Vick as their quarterback in 1999, they played in the Sugar Bowl and lost the National Championship game to the Florida State Seminoles. Frank Beamer is known as one of the greatest college football coaches of all time and really revolutionized the role of special teams in the college game. His coaching tree is extensive and, starting in 1987, he led the Hokies to all of their ACC and Big East titles. With Michale Vick in 2001 and Bruce Smith in 1985, Virginia Tech has two no. 1 overall NFL draft picks.
Where can I get Virginia Tech Hokies football tickets?
You can get Virginia Tech Hokies football tickets at StubHub, the world's largest ticket marketplace.
What is tailgating like at Lane Stadium?
Blacksburg is a college town, and a Virginia Tech football game is an event for the entire student body, alumni, and nearby residents alike. The stadium is on campus and there are tailgating spots all over the campus. Game days are huge events in Blacksburg and tailgating is one of the main ways that fans get ready for the game.
What is the environment like for a Virginia Tech home game?
Virginia Tech was voted " "one of the scariest 20 places to play" " college football in an informal ESPN poll. The environment is loud and the stadium is always packed. With over 66,000 seat capacity and a wild group of fans, it is one of the best college football experiences in the country.
What are this year's biggest Virginia Tech games?
Virginia Tech is in contention for the Coastal Division championship each year, so their biggest games are against conference opponents including Georgia Tech, Miami, Virginia and Boston College. In addition to their conference schedule, they will play a top 10 powerhouse in Notre Dame, and this game might be the best of the 2019 season.
What was Virginia Tech's record last season?
Since Justin Fuente took over as coach three years ago, the Hokies have gone 25-14 including 6-7 last year. Fuente was named coach of the year in his first season at Virginia Tech but did not experience the same success in 2018. This will be a defining season for Fuente as they barely qualified for a bowl game in 2018 and need to improve this season.
Who are some notable players and coaches for the Virginia Tech Hokies?
When you think of Virginia Tech, three names come to mind. Bruce Smith was a defensive end at Virginia Tech in the early 1980s and then played in four super bowls with the Buffalo Bills. He is considered one of the greatest defensive players of all time. Michael Vick revolutionized the way the quarterback position is played. With his speed, athleticism, and arm strength, he could do anything on the football field. While off the field issues derailed a once-promising career, Vick is still considered one of the best. You cannot think of the Virginia Tech Hokies without thinking about their legendary coach Frank Beamer. He had a 25-year bowl game streak, led his team to a national championship game and is considered one of the greatest coaches in college football.
How much are Virginia Tech football tickets?
Depending on the game and quality of opponent, you can find Virginia Tech tickets anywhere from $14 to $500 at StubHub. The key is to pick a good game, purchase your ticket early, and then get ready to experience one of the great college football environments.
Back to Top
Epic events and incredible deals straight to your inbox.