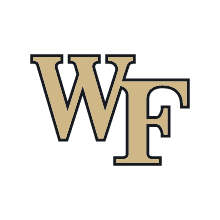 Wake Forest Demon Deacons Football
Wake Forest Demon Deacons Football Tickets
Official Ticket Marketplace of the Wake Forest Demon Deacons
Looking for Wake Forest Demon Deacons Football outside the UK?
Check out one of our international sites.
Take me there
Wake Forest Demon Deacons Football venues
Wake Forest Demon Deacons Football tickets
League: NCAA
Conference: Atlantic Coast Conference
Home Games: BB&T Field
Head Coach: Dave Clawson
All-Time Greats: Norm Snead, Brian Piccolo, Billy Ray Barnes, Rusty LaRue, Kevin Johnson
Rivals: University of North Carolina, North Carolina State
Wake Forest Demon Deacons Football Tickets
Wake Forest has a long, storied history when it comes to football. The Demon Deacons can trace their history back to 1888, when they played the first college football game in North Carolina. They defeated their opponent, the University of North Carolina, and a rivalry was born. That was the Demon Deacons' only game of their first season. Over the years, the game and the schedule have changed. Through it all, the Demon Deacons have continued to be very competitive on the field. Wake Forest has won two conference championships, in 1970 and 2006. The 2006 team made it to the Orange Bowl, facing off against the University of Louisville. The Demon Deacons' most recent bowl game was in 2018, at the Birmingham Bowl against the Memphis Tigers. Wake Forest won a close game by a score of 37 to 34. StubHub is your source for Wake Forest Demon Deacons Football tickets, during both the regular season and the postseason.
Where are the Wake Forest Demon Deacons Football games?
Wake Forest plays its home games at BB&T Field in Winston-Salem, North Carolina. The stadium seats 31,500 people. The playing surface is made of FieldTurf. The stadium dates to 1968 and is currently the smallest home stadium in the Atlantic Coast Conference. Wake Forest agreed to a naming deal with BB&T in part to secure funds for renovations.
Who is Wake Forest's head coach?
The Demon Deacons team is led by Dave Clawson. Clawson himself played football at Williams College in the 1980s. Since then, he has filled coaching roles at Fordham, Richmond and Bowling Green, among other schools. Clawson accepted the head coaching job at Wake Forest in 2013. Since his arrival, the Demon Deacons football team has a 28-35 overall record with a record of 24-17 in the ACC.
Who are Wake Forest's rivals?
Wake Forest's biggest rivals are both in-state. The UNC Tarheels and NC State Wolfpack each have a long history with the Demon Deacons. Wake Forest first played both of these schools at the tail end of the 19th century. The Wolfpack and the Demon Deacons face off annually in both football and basketball. They face off against UNC less frequently because the schools are in different divisions. Wake Forest's lifetime record against UNC is 35-69-2. Against NC State, the team has put up slightly better numbers at 40-66-6.
What is the atmosphere like at a Wake Forest football game?
Wake Forest has a vocal, devoted fan base. People love wearing their colors out to the game. The marching band and dance team provide great entertainment during game stoppages and at halftime. Wake Forest's famous mascot, the Demon Deacon, evolved from the school's Baptist roots. The Deacon originated as a stern figure, balding and dressed formally. He is always scowling. By the 1930s, students were having fun with this image. Someone donned tails and an old-time top-hat to conduct the marching band at a game. Today's Demon Deacon still looks serious but has lightened up enough to ride motorcycles on the field during football games. He's one of the most recognizable and best-loved mascots in college sports.
What is the tailgating scene like at Wake Forest games?
Wake Forest fans typically tailgate in the parking lots surrounding the stadium. There's plenty of barbecuing and bean-bag tossing at a Wake Forest tailgate. The Lowes Foods Tailgate Town on Baity Street is another great place to find food, live music and other entertainment before kickoff.
Back to Top
Epic events and incredible deals straight to your inbox.