Looking for Newsboys outside the UK?
Check out one of our international sites.
Take me there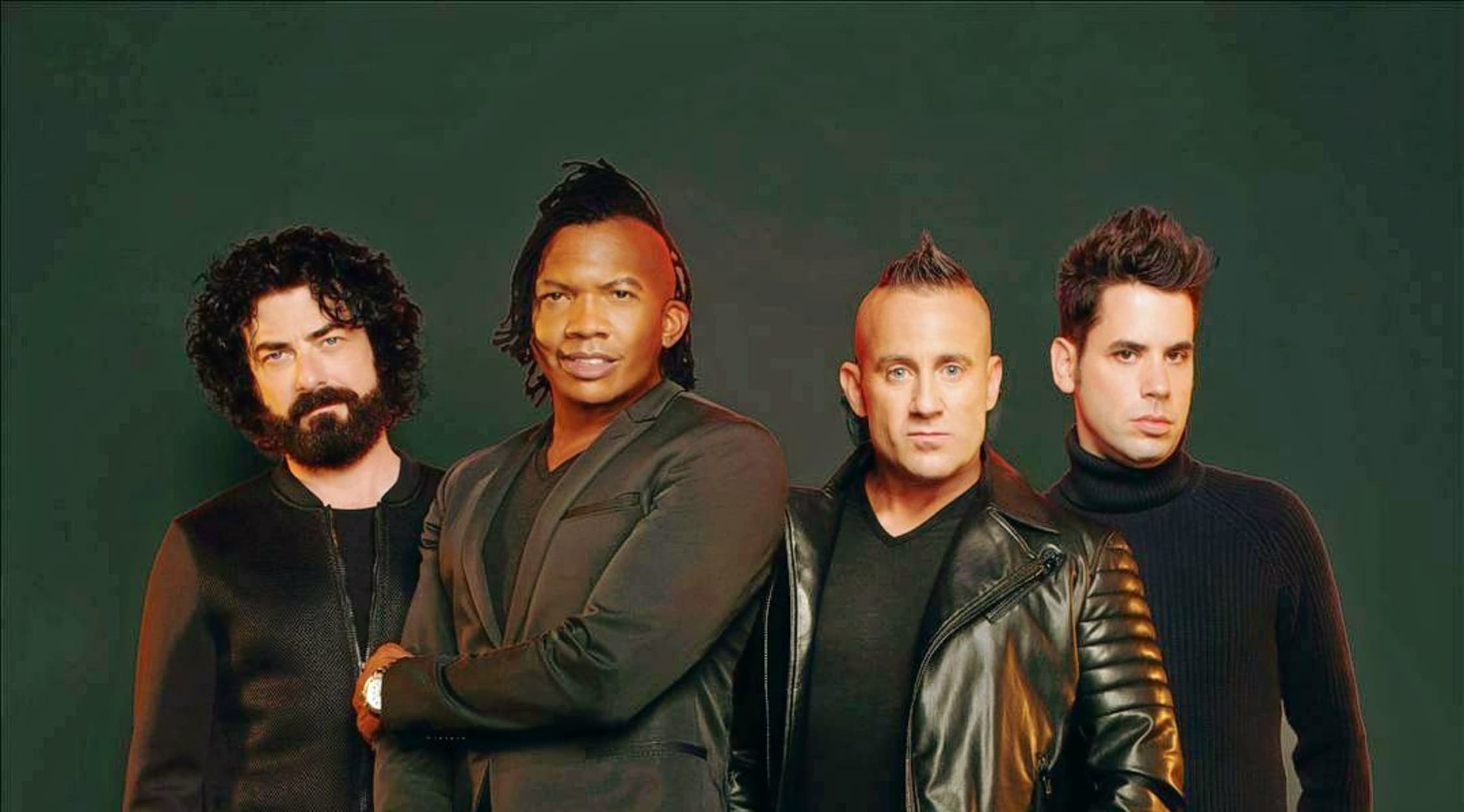 Rovi
Newsboys Tickets
Newsboys Tickets
The Newsboys have been blessing fans with songs of hope and encouragement for more than 30 years. This Australian band has released 16 albums, more than 30 hit singles and five gold singles. "God's Not Dead" is one of their most recognized songs, and songs like "He Lives" and "Your Love Never Fails" are well-known worship songs that continue to be played in Christian congregations across the world. Their core music style is Christian rock, but they have also composed songs in other Christian contemporary genres. The band has undergone many transformations since their beginnings, and they are currently billed on tour as "Newsboys United."
Changed, Yet the Same
The Newsboys formed as a Christian rock band in the Queensland town of Mooloolaba in the late 80s. The band was comprised of members John James, Peter Furler and Phil Joel, and they later acquired a guitarist, Jody Davis. The band signed with Star Song in 1990 and released seven albums under this label. Star Label was bought by EMI/Sparrow, and the Newsboys continued to gain in popularity. James left the band in 1998, and Furler took over as lead vocalist for Step Up to the Microphone, their first album for Virgin. The disco-style album Love Liberty Disco was released a year later, and "It is You," one of their biggest Christian contemporary music hits, hit the airwaves in 2002. Davis left in 2003, and Paul Coleman joined as the new guitarist in 2004. Joel left the band in 2006. Coleman left in 2009, and Davis returned. Furler left after the release of In the Hands of God in 2009. Michael Tait of dc Talk joined as vocalist for the 2010 release of Born Again, which debuted at No. 4 on the Billboard 200. In 2017, Furler and Joel returned for the Newsboys United retrospective tour. The release of Newsboys United in 2019 followed.
Where can I buy Newsboys tickets?
It is a quick and simple process to purchase your Newsboys tickets at StubHub via the online site or by the mobile app. The FanProtect guarantee protects buyers for a safe and secure transaction at StubHub, the world's largest ticket vendor.
Where is the Newsboys group playing?
The Newsboys are currently touring in the Newsboys United tour in the US. They will be appearing at venues such as the H-E-B Center at Cedar Park in Cedar Park, the Grand Canyon University in Phoenix, the Packinghouse Christian Fellowship in Redlands and the Verizon Wireless Amphitheater in Selma.
What awards has the Newsboys won?
The band Newsboys has won many musical awards. These awards include winning the 1999 Billboard Music Video Award for Best CCM Video for "Entertaining Angels," the 1999 Dove Awards Short Form Music Video for "Entertaining Angels," the 1998 Nashville Music Award Favorite CCM Album for Step Up To The Microphone, the 1997 Dove Awards Recorded Music Packaging for Take Me To Your Leader, the 1995 Dove Awards Rock Recorded Single for "Shine" and the 1995 Dove Awards Rock Album for Going Public.
What are some popular Newsboys songs?
The Newsboys have an extensive number of popular CCM songs that continue to be played on the radio and at Christian gatherings everywhere. Some of their most popular songs are "Born Again," "Way Beyond Myself," "Save Your Life," "Something Beautiful," "You Are My King (Amazing Love)," "He Reigns," "Million Pieces," "It Is You," "Joy," "Entertaining Angels," "Woo Hoo" and "Believe."
What are the Newsboys concerts like?
Furler and Joel have returned to the Newsboys for their Newsboys United tour and album release, making these performances something very special. Furler and Tait take turns singing at the mike, and Davis, Frankenstein, Joel and Phillips mesh as if they've always played together. Their classic hits "He Reigns," "Shine," Entertaining Angels" and "Breakfast" are especially enervating.
Which performers has the Newsboys performed with?
Recently, the Newsboys have performed with Michael W. Smith and Adam Agee during their Newsboys United tour.
Back to Top
Epic events and incredible deals straight to your inbox.