Looking for Lindsey Stirling outside the UK?
Check out one of our international sites.
Take me there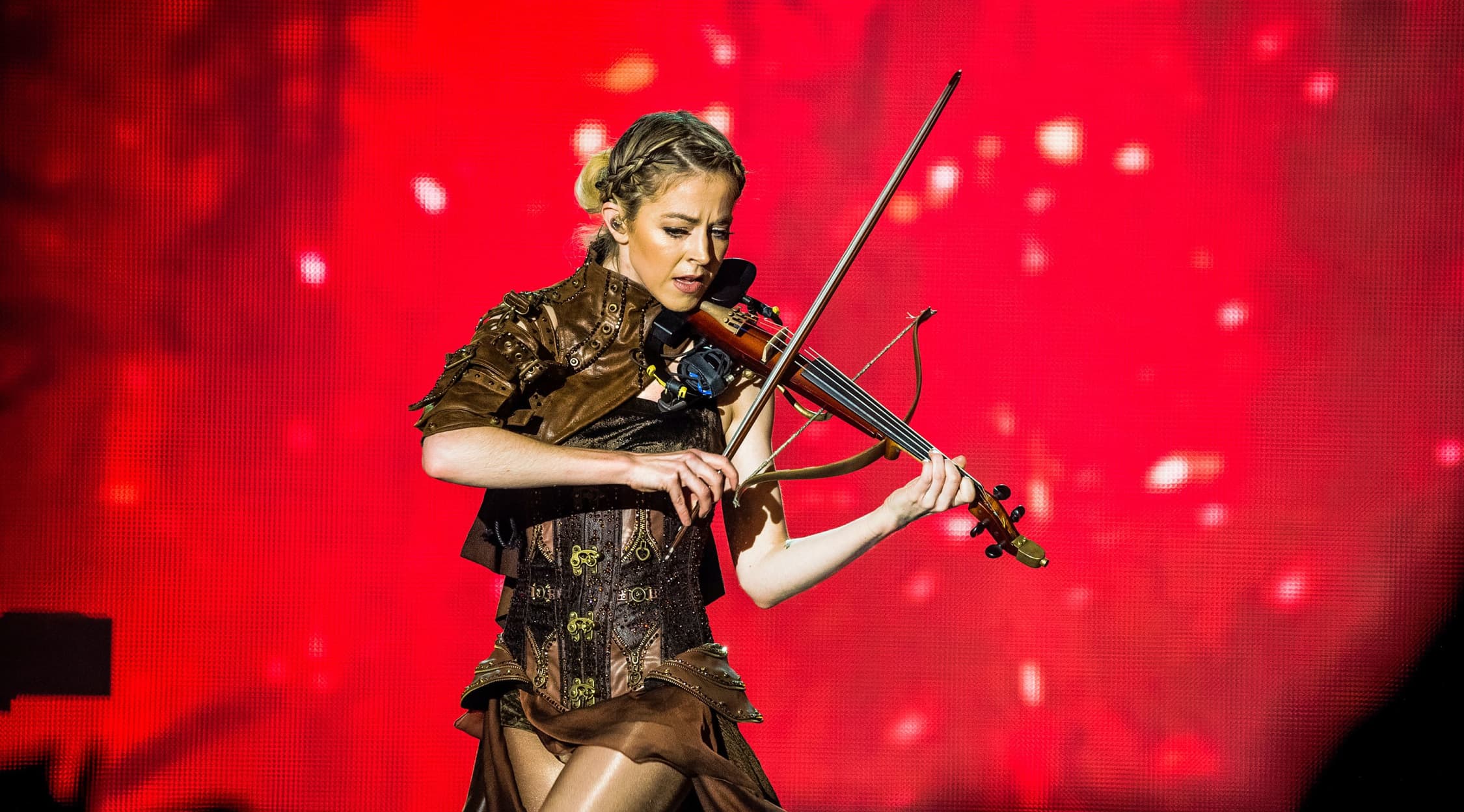 Zuma Press
Lindsey Stirling Tickets
Lindsey Stirling: A Magnetic Performer
Whether you enjoy her dancing, skills on the violin, or ability to add a classical touch to electronic dance music, you'll appreciate the chance to see the magnetic Lindsey Stirling onstage. But before you buy tickets, take a look at how she started her incredible career.
Schedule
In 2012, Lindsey toured around the US, which was quickly followed by a tour around Europe in 2013. In 2014, she announced the dates and destinations of her new world tour to promote her latest album. During this time, she is expected to perform more than 75 shows, and in 2015, she will follow up this tour with shows in South America for the first time. Just a few specific destinations for her 2014 tour include Vienna, Paris, Brussels, Dublin, Liverpool, and London.
Trivia
She has two YouTube channels, one of which is called LindseyTime and is devoted to behind-the-scenes footage to allow fans the chance to get to know her. In fact, she made up a goofy character, Phelba, who is a somewhat nerdy young woman who claims to be Lindsey Stirling's biggest fan. She uploads her videos of Phelba to her YouTube channels, alongside fan requests for popular songs. For example, she has uploaded her own versions of theme songs from video games like "Zelda" and "Skyrim," as well as "Games of Thrones" and "Phantom of the Opera."
Artist
Lindsey attended high school in Gilbert, Arizona, where she formed a band called "Stomp on Melvin." After graduating from high school, she attended college in Utah and studied filmmaking. In 2010, she competed on "America's Got Talent", but when she did not win, she began making videos for YouTube. Her channel was called Lindseystomp and became full of videos of her playing violin while dancing around. The first video she added was for her song, "Spontaneous Me," which was incredibly popular among viewers. Her style was considered so unique that her channel now has more than 5 million subscribers.
Breakthrough
Lindsey's breakthrough came courtesy of her YouTube channel, when she released the video for her song "Crystallize" in 2012. The method of mixing classical violin music with dubstep seemed to work well for her, since the video garnered more than 42 million views and was within the top ten most viewed videos of the year. Shortly after the success of "Crystallize," Lindsey released her first album, Lindsey Stirling, which featured original songs like "Spontaneous Me," "Transcendence," and of course "Crystallize." That album sold more than 700,000 copies worldwide and reached number 23 on the Billboard 200 chart. It also topped both the Billboard Classical Album Chart and the Billboard Dance/Electronic Chart.
Hit Albums
Lindsey's second album, Shatter Me, was released in 2014. Popular singles on the album include "Shatter Me," and "Beyond the Veil." This album topped the Billboard Classical Album, Independent Album, and Dance/Electronic Album charts. It also reached number 2 on the Billboard 200 chart. It sold more than 400,000 copies worldwide and got great reception from critics.
Show Experience
If you enjoy watching her music videos due to her interesting combination of dancing, jumping, and playing violin, you won't be disappointed when you buy Lindsey Stirling tickets. Her shows feature the same style her fans have grown accustomed to, with the added bonus of lots of audience engagement. She is known for showcasing lots of energy, passion for her music, and a great stage presence. If you want a chance to meet her, consider getting meet-and-greet tickets when you attend her next show.
Back to Top
Epic events and incredible deals straight to your inbox.