Looking for Lee Brice outside the UK?
Check out one of our international sites.
Take me there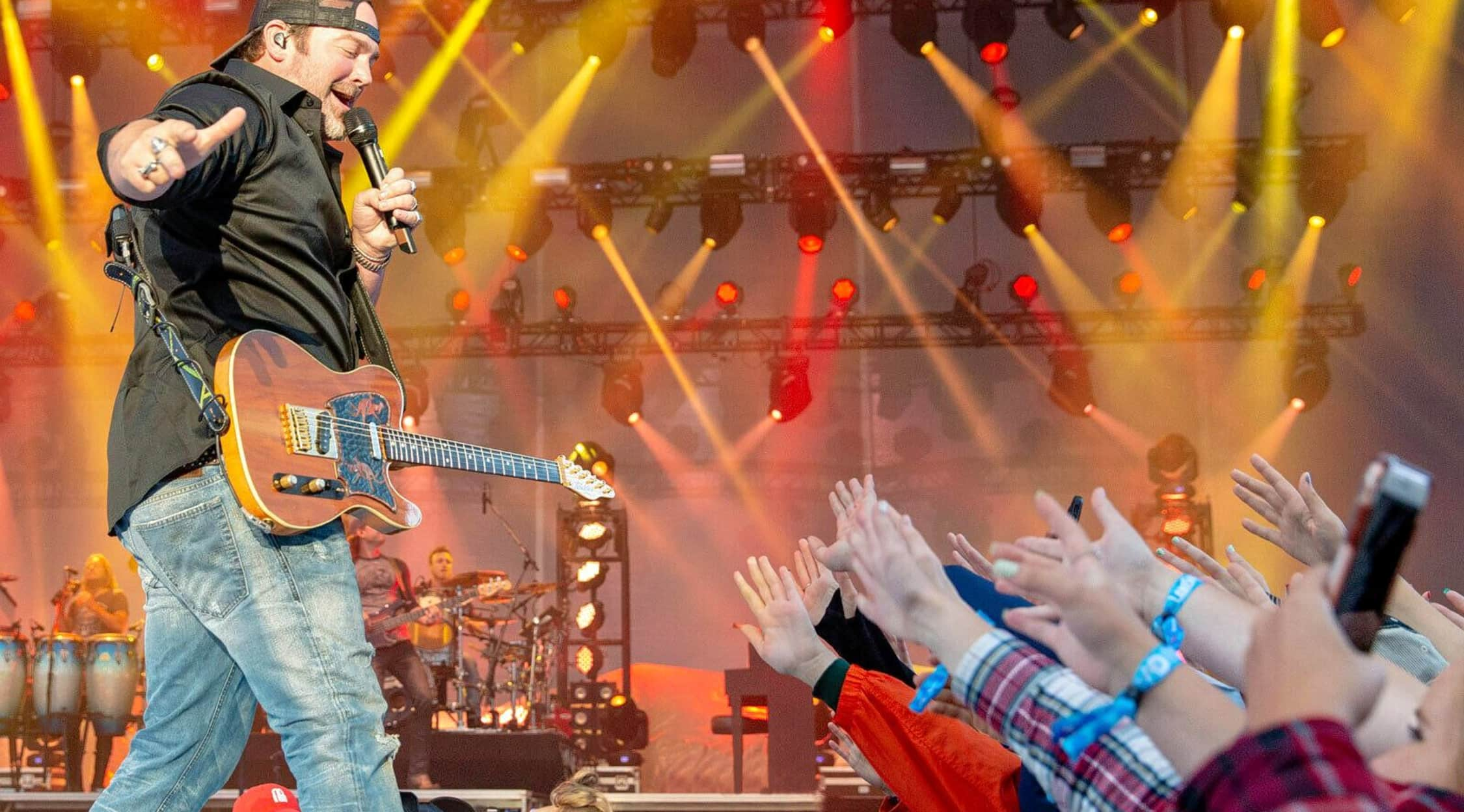 Zuma
Lee Brice Tickets
Lee Brice Tickets
Lee Brice is a country music singer specializing in lead vocals and guitar. Being a country music superstar wasn't always his go-to career; he attended Clemson University on a football scholarship and wanted to play professional football. An arm injury adjusted his life plan and gave him time to focus on country music as a career, which fans are grateful for when they hear him during a live concert performance. Coming from a musical family, Brice doesn't credit anyone famous for his musical influence. Instead, he gives credit to his cousin and his children's godfather, Michael Cericola.
From Songwriter to Performer
Brice grew up in a musically talented family. He began playing piano and guitar at a young age and even sang in church. Lee wrote most of his own material and loved to enter talent contests, which he usually won, in high school. When Brice began working in the music industry, it wasn't as a performer. Instead, it was as a songwriter. He created cuts for country music artists like Keith Gattis, Cowboy Crush and Jason Aldeaen. Brice worked closely with Kyle Jacobs and Billy Montana on Garth Brooks' 2007 single "More Than a Memory," which later debuted at No. 1 on the Billboard music charts. A talented performer himself, in 2014, Lee Brice was nominated for Best Country Performance Grammy Award for "I Drive Your Truck."
Where can I buy Lee Brice tickets?
Dust off your cowboy hat and shine your boots after you get your Lee Brice tickets at StubHub where you can buy tickets for a variety of shows, concerts and events. StubHub offers buyer protection that allows you to buy with confidence.
What songs can I expect to hear at a Lee Brice concert?
While Brice has several songwriting credits to his name, it's likely you will only hear songs attributed to him as a performer when you see him live. Setlists for a Lee Brice concert may include "A Woman Like You," "I Drive Your Truck," "Parking Lot Party," "Drinking Class," "That Don't Sound Like You" and "Boy."
Who does Lee Brice often perform with?
Lee Brice has participated in a number of country music performances with big names from all over the United States. He's also written songs for country music stars and jammed out with them. When he's headlining a tour, he's usually accompanied by Jerrod Niemann, Jon Stone and Doug Johnson. He's also been an opening act for country superstars like Luke Bryan.
What can I expect from a Lee Brice concert?
Not only does Lee Brice put on a good show, but he knows how to get the crowd involved with the concert to make it truly interactive. You can expect Brice to tell stories, sing songs from his best-selling albums and perform new music, too. You can also expect him to introduce the band and give each member a chance to shine.
Is Lee Brice coming to a city near me?
Lee Brice has a series of concert dates planned across the US. Not only will Brice be heading his own tour, but he'll be participating in the CMA Music Festival, too. Look for tickets to Lee Brice concerts in Redding, Calif., Sacramento, Calif., Las Vegas, Baltimore, Columbus, Ohio, Albany, NY, and Nashville, Tenn.
Who are the members of Lee Brice's band?
Lee Brice takes the stage with a five-member band. The band consists of Travis Bettis on guitar, Michael Gray on drums, Paul Rippee on bass guitar and Reginald Bradley Smith on keyboard. The entire band travels with Brice wherever he goes and performs with him when he's headlining, co-headlining or as part of a music festival.
Back to Top
Epic events and incredible deals straight to your inbox.