Looking for Glenn Miller Orchestra outside the UK?
Check out one of our international sites.
Take me there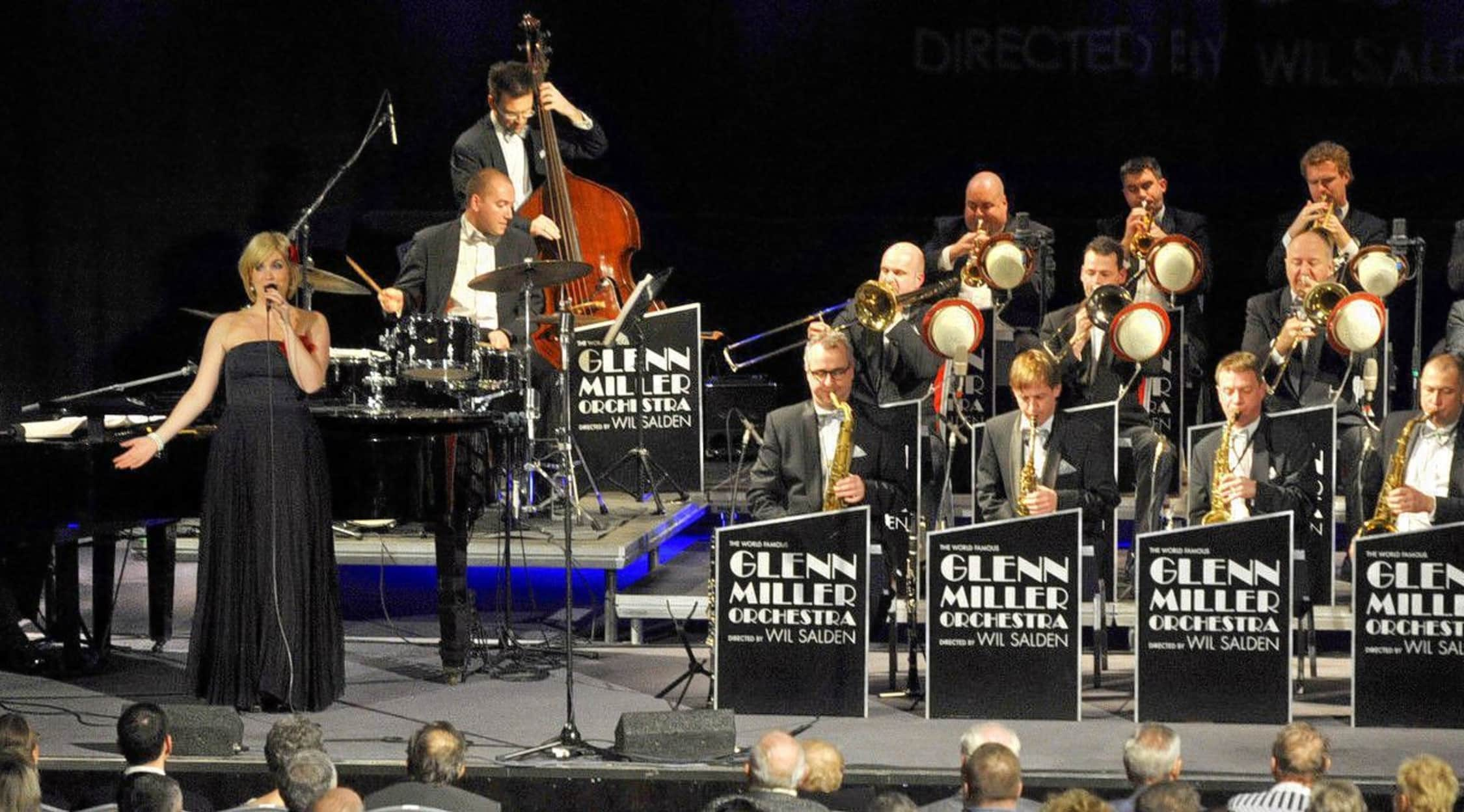 Alamy
Glenn Miller Orchestra Tickets
The Endless Serenade of the Glenn Miller Orchestra
The original Glenn Miller Orchestra brought the sassy stylings of half a dozen or so talented musicians into the homes of families around the world in the 1940s. Reincarnated numerous times since then, the Glenn Miller Orchestra has continued to play non-stop since 1956, and introduces millions of people to big band jazz, and thrills early and modern fans alike while maintaining the exact same style as the original group.
Schedule
The current incarnation of the Glenn Miller Orchestra plays a show nearly every single night, and on certain special occasions will play more. You can obtain Glenn Miller Orchestra tickets most easily for their tours in the United States, where they hit all 50 states almost every year. International tours aren't unusual, however. Canadian cities, including Toronto and Cambridge, often see a visit, and they may play up to 200 concerts in Europe a year. Lately, though, they have tried to limit themselves to 150 performances, typically in Germany, Italy, Austria, France, the Netherlands, and Russia.
Trivia
Despite the modern education of their musicians, the Glenn Miller Orchestra demands that all players conform to the style and music of the original jazz big band. That means training dozens, even hundreds of performers in the specific genre, as they tour so regularly and need replacements often. A rigorous schedule and exacting musicianship aren't all that's required. Travelling abroad means keeping a tight schedule, so players often have only minutes between playing and boarding a plane or train to the next destination.
Band
There have been too many members of the band to count since its inception in 1937. The founder and bandleader, Glenn Miller, began with six total players, but that has since ballooned to about 18, depending on the show. In addition to Glenn Miller, there have been eight bandleaders: Gary Tole, Larry O'Brien, Dick Gerhart, Jimmy Henderson, Buddy Morrow, Peanuts Hucko, Buddy DeFranco and Ray McKinley. Nick Hilscher has conducted the band since 2012.
Breakthrough
Formed in 1937 by Glenn Miller, the eponymous Glenn Miller Orchestra was originally an American swinging jazz band with its own hour-long slot on the NBC network every Saturday in the 1940s. The orchestra found immediate popularity with their TV show. From there, the band sought to bring light and happiness to the troops during WWII, travelling to many countries to perform for the soldiers. Prior to the TV show, Glenn Miller's very first recordings peaked high on the new charts, including "Solo Hop", which reached No. 7 on the Billboard Singles List in 1935.
Hit Albums
Albums were different back in the beginning of recordings, and often featured just one song. Glenn Miller's "Moonlight Serenade" was an instant classic, as was "Pennsylvania 6-5000" and "Tuxedo Junction," both of which peaked high on Billboard lists. "That Old Black Magic" was the last Glenn Miller original to reach No. 1 on Billboard, though there were several other covers that created a stir.
Show Experience
Holders of Glenn Miller Orchestra tickets can expect an exhilarating show that's been kept in pristine, vintage condition since the original performances. A big, boisterous affair, a show features musicians dressed in period-appropriate formal wear, standing while playing and moving in coordinated movements to the popular songs. Soloists pop up in their seats or move to the front centre to show off their section, and the audience claps along. Beyond the '40s-style, set seating, the stage is bare to keep focus on the band.
Back to Top
Epic events and incredible deals straight to your inbox.