Looking for Depeche Mode outside the UK?
Check out one of our international sites.
Take me there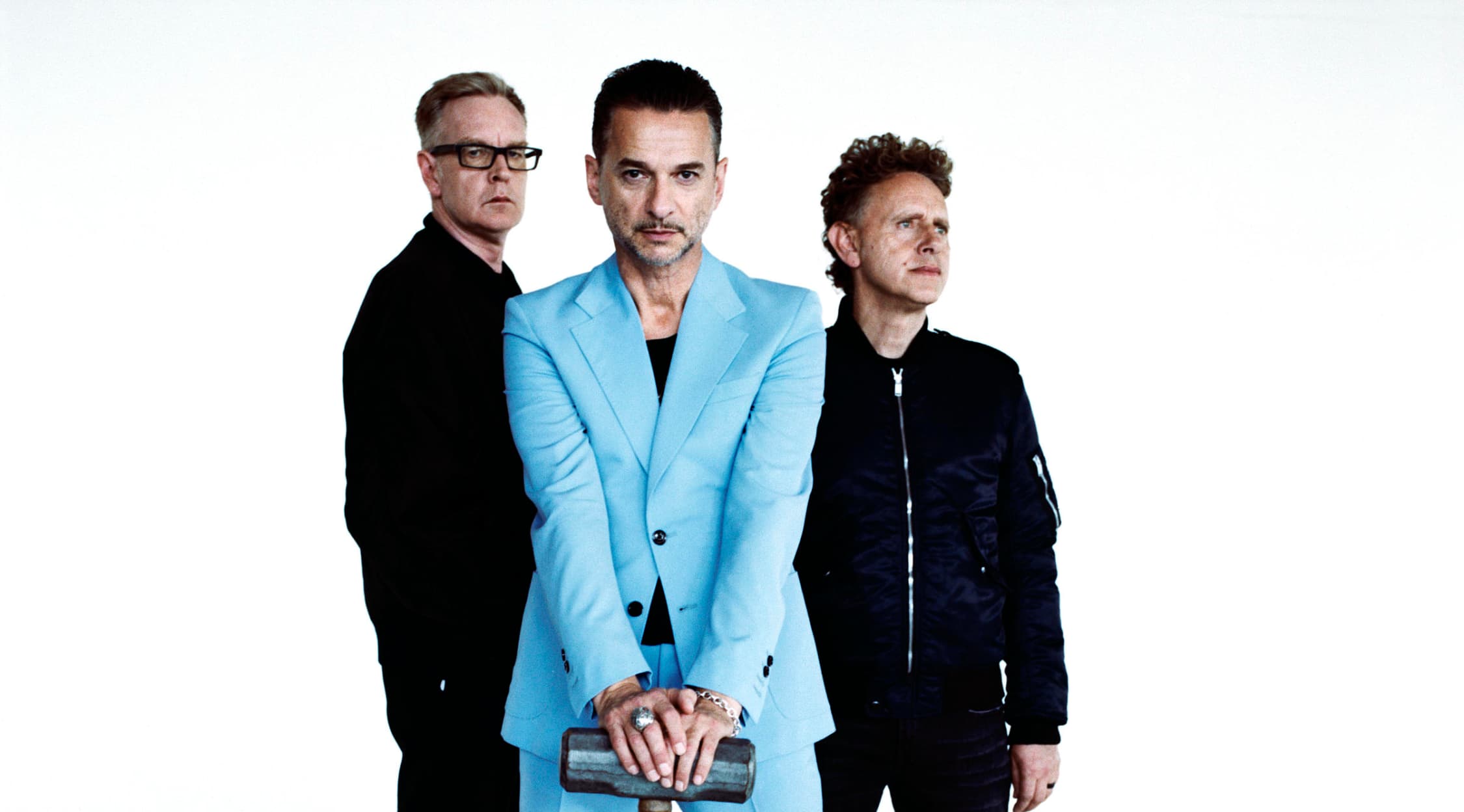 Depeche Mode Tickets
Depeche Mode: electronic titans to visit London, Manchester and Birmingham as part of huge 2017/18 European tour
One of the world's most successful electronic bands, synth trio Depeche Mode are back with a brand new UK tour this November to support their 14th full-length album, Spirit. The band will call at Manchester, Birmingham, London and Dublin – meaning fans up and down the country (and both sides of the Irish Sea) will be able to see Depeche Mode live.
With a back catalogue spanning over three decades, record sales exceeding 100 million, and rave reviews for the ingenuity and flair of the threesome's latest album; there's never been a better time to grab Depeche Mode tickets.
Depeche Mode's tribute to Bowie
Having opened their Spirit tour already, Depeche Mode made headlines with their cover of David Bowie's legendary track "Heroes". With lead singer Dave Gahan admitting in an interview with Rolling Stone how hard he took Bowie's death, with their kids attending the same school. Gahan was quoted as saying "One of the things I was most regrettable about was that I had never really gone up to him at any time I'd seem him in passing and said, 'You know, David, I bump into you once in a while, but I've never told you how much your music has meant to me'." Suffice to say, the covered track went down a storm in their opening show at Stockholm. With the band playing half of the new album, alongside a number of Depeche Mode classics.
Depeche Mode biography
This critically acclaimed band's humble beginnings can be traced back to 1977 when school friends Andy Fletcher and Vince Clarke set out to create music influenced by their teenage heroes The Cure. Signed to Mute Records, they struck gold when their third effort "Just Can't Get Enough" hit the UK Top Ten and wrote the band into the British music history books. Their run of success since has been almost unrivalled, with numerous number one albums, multiple Brits, Grammy nods and an influence that has touched innumerable artists, genres and musical movements.
Now considered one of the world's biggest bands, the trio has played to a combined crowd of more than 30 million over the past three decades. With new generations discovering their music every day, their tickets have never been in higher demand. Don't miss your chance to experience the band live with Depeche Mode tickets at StubHub.
Top Depeche Mode tracks
With a back catalogue spanning back over 30 years, Depeche Mode can boast some of the most iconic songs. Above all others, "Just Can't Get Enough" and "Personal Jesus" remain definitive '80s classics, with the former reaching number eight in the UK charts upon release and the latter making into Rolling Stone's list of "500 Greatest Songs of All Time". The single has since been covered by the likes of Marilyn Manson and Johnny Cash and has become a common karaoke classic for fans of '80s music everywhere.
Similar artists to Depeche Mode
Fans interested in Depeche Mode tickets may be keen on seeing some other huge electronic acts. Fresh from their sell-out residency at London's Royal Opera House, the Pet Shop Boys are already on their next run of dates, while The Human League are unmissable live.
Back to Top
Epic events and incredible deals straight to your inbox.