Looking for Carole King outside the UK?
Check out one of our international sites.
Take me there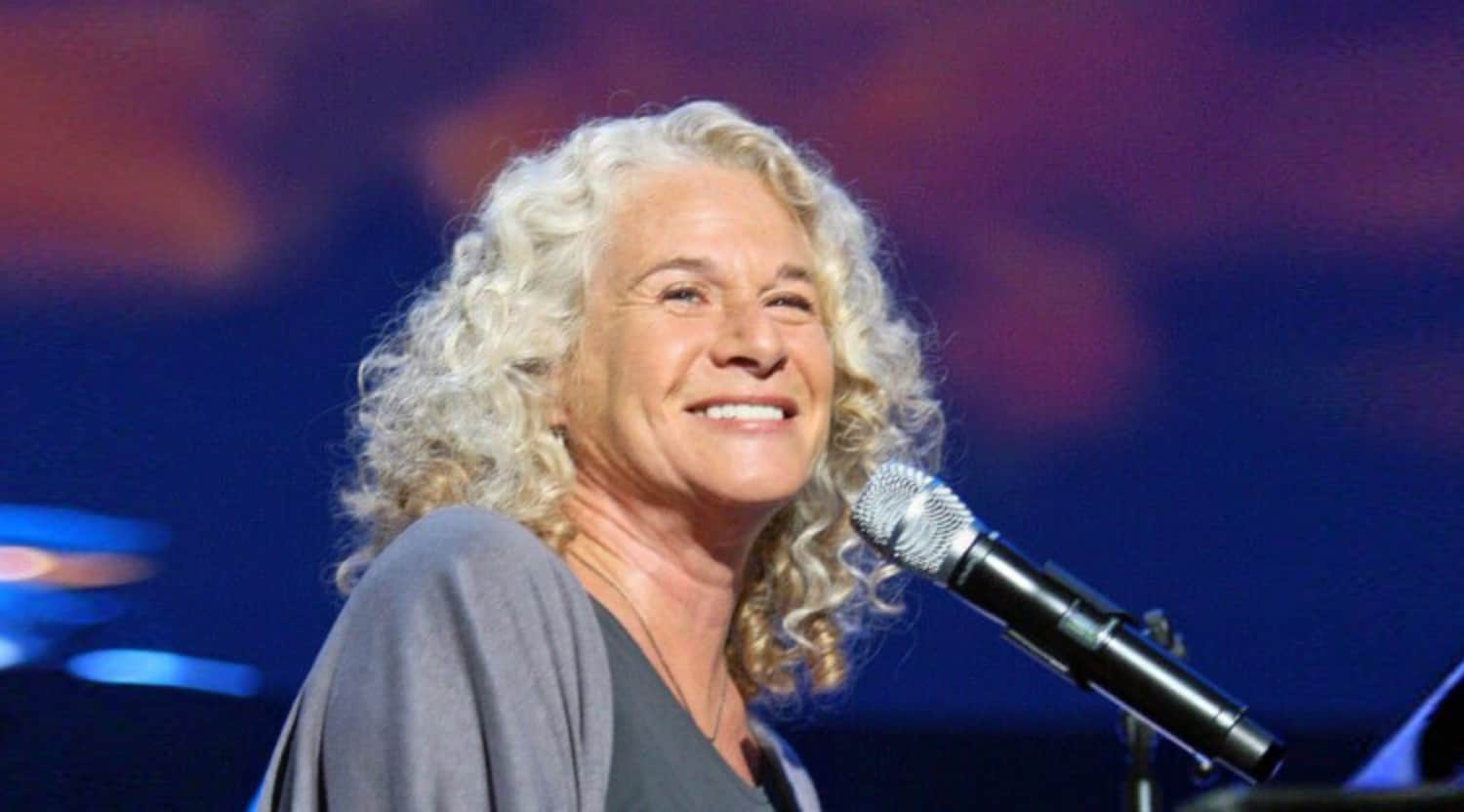 Rovi
Carole King Tickets
Carole King Schedule
Fans all over the planet still appreciate timeless songs like "You Make Me Feel (Like a Natural Woman)," one of the hundreds of songs pianist, composer, singer and environmental activist Carole King penned for other artists. This accomplished, prolific career musician has taken home four Grammy Awards and has been inducted into both the Rock and Roll Hall of Fame and the Songwriters Hall of Fame. Don't miss out on one of Carole King's upcoming performances! This musical gem is headed for venues like the Rialto Square Theatre in Joliet, Illinois. Make sure you secure your tickets now because they are sure to go fast!
Carole King Background
Born Carol Klein, Carole King grew up in Brooklyn, New York, revealing her remarkable musical talents at a tender young age. By the age of 10, she was considered to be a polished pianist. She then branched off into composing her own songs during her teenage years. While a student at James Madison High School, she came up with her own stage name, Carole King. Around this time she established the Co-Sines. Following high school, King struck up friendships with Paul Simon, Gerry Goffin and Neil Sedaka at Queens College in New York. All of her new friends went on to become renowned songwriters - and so did King.
King's friendship with Goffin turned into a romantic relationship as well as a working collaboration. Together, the couple crafted an incredible catalog of songs. In 1960, King and Goffin got married and continued to make beautiful music together. Publisher Don Kirshner was one of the many taken by their songs and he got them a record deal with Aldon Music. They hit the ground running and cranked out hits like "Up on the Roof" (the Drifters); "Will You Love Me Tomorrow" (The Shirelles); and "Take Good Care of My Baby" (Bobby Vee). As the 60s rolled on, the duo penned more and more successes like "Pleasant Valley Sunday" (the Monkees); "You Make Me Feel (Like a Natural Woman)" (Aretha Franklin); and "Goin' Back" (Dusty Springfield).
Unfortunately, King and Goffin's personal relationship was crumbling even though their compositions continued to gain traction. Their record label, Tomorrow, collapsed right along with their marriage. And King's solo effort, "The Road to Nowhere" (1967) unraveled the story of her relationship's demise. The two officially called it quits a year later and King launched her solo career. In 1968, King headed to the West Coast with her two children to connect with other creative artists in a community inhabited by musicians like Joni Mitchell and James Taylor. The communal experience led to an introduction with Toni Stern, a fellow female songwriter. She worked with Stern to write "It's Too Late." About her experiences of that era, King said, "Toni was wonderful help with the transition from writing with Gerry to writing songs on my own... I didn't have the courage initially. James inspired me a lot. I write heavily under the influence of James Taylor."
King then cinched a record contract with the Ode label and for a short stint, established The City. The group included Charles Larkey and Danny Kortchmar. The City yielded a single album, Now That Everything's Been Said. The City never hit the road to perform their songs because King was consumed by stage fright. Eventually, The City dismantled and by the close of 1970, King dedicated her time solely to singing her own material.
Her career as a solo artist started off slow. Her debut effort, Writer, didn't make any waves on proved to be a disappointment on the music scene but her sophomore album, Tapestry (1971), settled in at No. 1 on the Billboard charts for 15 weeks in a row. It additionally was a staple on the charts for an incredible six years. It took Michael Jackson's Thriller album of 1982 to nudge Tapestry off the charts. Tapestry spawned "Will You Love Me Tomorrow" and "It's Too Late." She followed up the album with Music in 1971. The record was credited with "Sweet Seasons" - a No. 1 chartbuster that rocketed to gold status. Her subsequent albums, Rhymes and Reasons, Fantasy, Wrap Around Joy and Thoroughbred, additionally claimed gold certification.
In 1980, King garnered more mainstream success with Pearls. Eventually, she focused her attentions on composing tunes for TV and motion pictures as well as other singers, signaling the end of her singing career for several years.
Throughout the 80s and 90s, King immersed herself in environmental and political causes. By the end of the 90s, she returned to the music scene, writing "The Reason" for songstress Celine Dion. In 2007, she bridged generational gaps by participating in a tour of Japan along with Fergie and Mary J. Blige. Three years later, she hooked up with James Taylor, joining him for the Troubadour Reunion Tour.
More recently, King made an indelible mark in history when she was the first woman to earn the Gershwin Prize for Popular Song honor. A special ceremony was hosted at the White House with President Barack Obama presenting the accolade. At the time, this living legend explained to the Associated Press that she had no plans to slow down on her musical career. She said, "I still feel that it would be lovely to retire but that time is not yet here apparently."
Carole King Albums
Carole King's discography is comprised of studio albums Writer (1970); Tapestry (1971); Music (1971); Rhymes and Reasons (1972); Fantasy (1973); Wrap Around Joy (1974); Thoroughbred (1976); Simple Things (1977); Welcome Home (1978); Touch the Sky (1979); Pearls: Songs of Goffin and King (1980); One to One (1982); Speeding Time (1983); City Streets (1989); Colour of Your Dreams (1993); Love Makes the World (2001); and A Holiday Carole (2011).
Carole King Trivia
Did you know that Carole King has either penned or co-penned more than 400 tunes? Yep, it's true. And these songs have been cut by over 1,000 singers.
Carole King Concert Experience
When a music hero like Carole King passes through your hometown, you better make sure you have tickets in hand to see her live! As one of the most coveted classic entertainers of our time, Carole King transformed herself into one of the most enduring artists of our time. Now is your chance to get in on the fun. Reserve your tickets in advance to see Carole King on her latest tour! All it takes is a click of the mouse!
Back to Top
Epic events and incredible deals straight to your inbox.