Looking for Buffy Sainte-Marie outside the UK?
Check out one of our international sites.
Take me there
Buffy Sainte-Marie tour venues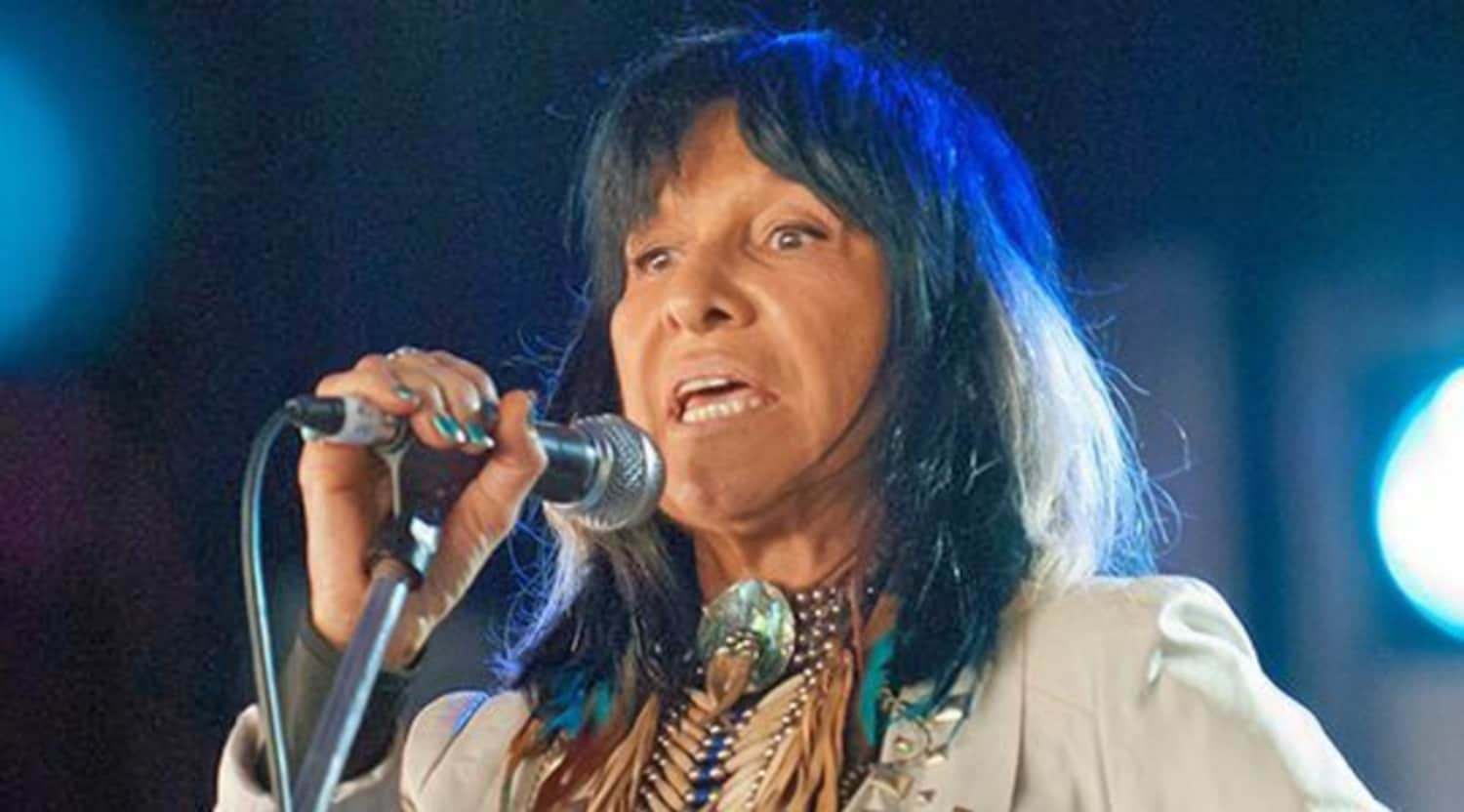 Alamy
Buffy Sainte-Marie Tickets
Buffy Sainte-Marie Tickets
It may have been the swinging sixties, but for musicians everywhere, it was a period where music and activism crossed paths as never before in American history. Music became the leading form of expression for a new generation alarmed by racism, bigotry, war and injustice, and folk singers such as Buffy Sainte-Marie toured the world performing songs that probed the nation's conscience. While much of her repertoire has focused on the plight of America's indigenous peoples (she is Canadian Cree herself and was born on a Cree reservation), her work also takes on issues related to poverty, racism, inequality, religion, mysticism and war.
Buffy Sainte-Marie Schedule
Buffy Sainte-Marie's recent stops include the Manitoulin Country Fest in Little Current, Canada; the Festival of Friends in Hamilton, Canada and the Brooklyn Bowl in London, England. To find out about Buffy Sainte-Marie tickets in your area, check online for the latest concert updates.
Trivia
Although one associates Buffy Sainte-Marie with the huge movement of acoustic folk music that gained mainstream popularity during the 1960s and 1970s, she is also legendary for pioneering major breakthroughs in electronic and digital instrumentation. Her 1969 album "Illuminations" is hailed today as the first quadraphonic electronic vocal album ever produced, thanks to its use of innovative synthesisers and electronic instruments -- including a Buchla synthesiser to alter her voice on the album's only single, "Better Only to Find Yourself." In addition, Sainte-Marie jumped onboard the computer bandwagon as far back as 1981, when she began recording with Apple and Macintosh computers.
Singer
A self-taught pianist, guitarist and songwriter, Buffy Sainte-Marie honed her craft during the early 1960s by performing in regional coffee houses throughout Toronto and New York's Greenwich Village. As her fame grew, she progressed to concert halls and amphitheatres, often appearing with other emerging Canadian singers such as Neil Young and Joni Mitchell. In 1964 she released her debut album, "It's My Way!" While the album did not chart, it garnered her a great deal of attention from the folk community, and generated two original singles, "Now That the Buffalo's Gone" and "Universal Soldier." Throughout the 1960s and 1970s, Sainte-Marie continued to write and perform popular protest songs such as "My Country 'Tis of Thy People You're Dying," as well as folk-based and mainstream-pop hits. In addition, she won acclaim for her haunting, evocative compositions such as the original score for the 1979 documentary "Spirit of the Wind.
Breakthrough
In 1964, Buffy Sainte-Marie was named "Best New Artist" by Billboard Magazine. This led to TV appearances in both the U.S. and Canada on folk-oriented shows such as "Rainbow Quest with Pete Seeger." As her fame grew, she became a popular guest on mainstream shows such as "The Johnny Cash Show," "The Tonight Show" and "Soul Train." In 1976, Buffy Sainte-Marie began to reach a whole new generation of younger fans when she began performing on TV's "Sesame Street," where she was a regular guest until 1981.
Hit Albums
Upon the release of her 1972 album "Moonshot," Buffy Sainte-Marie hit the pop charts with the single "Mister Can't You See," which reached No. 29 on Billboard's Adult Contemporary chart and No. 38 on its Pop Singles chart. It was during the 1980s, however, that Buffy Sainte-Marie had her biggest mainstream hit with her original song, "Up Where We Belong," which was written for the 1982 blockbuster hit, "An Officer and a Gentleman," and won not only a Grammy but also an Academy Award for Best Original Song.
Show Experience
For more than five decades, Buffy Sainte-Marie has mesmerised audiences with her incandescent, compelling stage presence, but don't expect a quiet, cerebral folkie coffee house experience. Her shows are high-voltage and mega-energised, with pulsating beats and rhythms, powerful back-up vocals and electrifying instrumentation that brings audiences to their feet. You'll hear Native American, rock, soul and blues influences, in original works spanning the singer's 50-plus years of performing. Between songs, Sainte-Marie addresses her audience on a personal level, with stories and reminisces that pull the audience totally into her unique world.
Back to Top
Epic events and incredible deals straight to your inbox.