Looking for Brooks and Dunn outside the UK?
Check out one of our international sites.
Take me there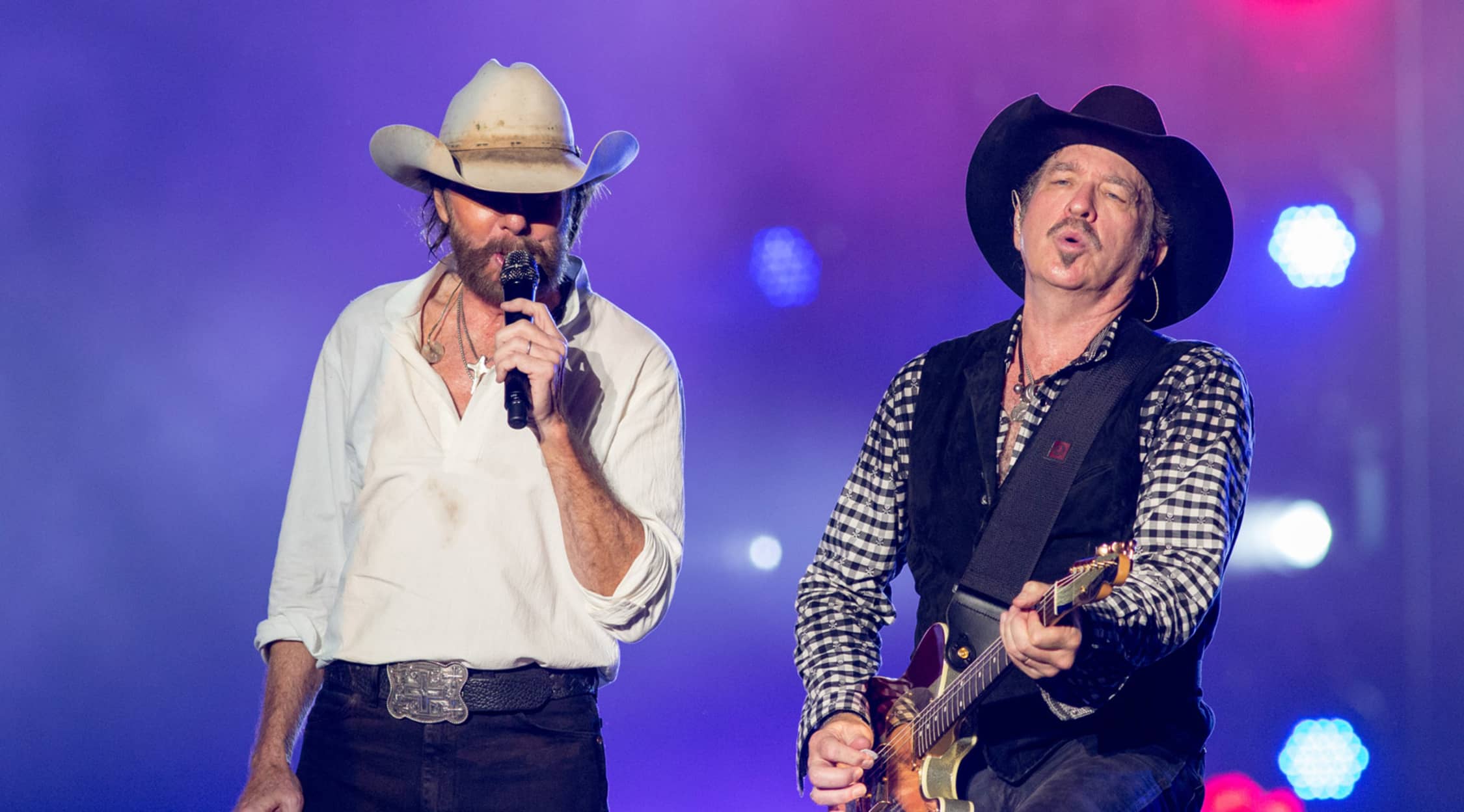 Zuma
Brooks and Dunn Tickets
Brooks & Dunn Tickets
Comprised of Leon Eric "Kix" Brooks III and Ronnie Gene Dunn, Brooks & Dunn was formed in 1990. Both performed as solo artists in the late '80s before joining forces as the mega-duo. Their first single "Brand New Man," was released in June of 1991 from the album of the same name. Together, they have released over 50 singles with 20 of those hitting No. 1 and another 19 hitting the Top 10. Brooks & Dunn retired after a final concert at the Bridgestone Arena in Nashville, Tenn. They worked separately for years and recently announced a new album together called Reboot.
Line Dancing and Presidential Campaigns
"Boot Scootin' Boogie" is credited with helping to reignite the popularity of line dancing in America. It was written by Dunn prior to teaming up with Brooks. Additionally, their hit single "Only in America" was used by both George W. Bush and Barack Obama for their Presidential Campaign music.
Where can I purchase Brooks & Dunn concert tickets?
StubHub, as the world's largest ticket forum, is your one-stop-shop for Brooks & Dunn concert tickets. Thanks to their innovative technology, you can find the best seats at the most affordable prices.
What awards has Brooks & Dunn won?
One of their most notable achievements is winning the Academy of Country Music Award's Vocal Duo of the Year every year between 1992 and 2006, excluding 2000. They've won the Favorite Country Band, Duo or Group by the American Music Awards for the years of 1997, 2000, 2002, 2004 and 2005. They have won multiple Country Music Association Awards for Vocal Duo of the Year. They also have two Grammy's for singles "Hard Workin' Man" in 1993 and "My Maria" in 1996. Other honors include being inducted into the Hollywood Walk of Fame in 2018 and into the Country Music Hall of Fame in 2019.
Will Brooks & Dunn tour in 2019
Though they will not officially be "on tour," you can catch them in a few shows around the country including a stint with Reba McEntire, an oft collaboration, in Las Vegas, Nev.
What is a Brooks & Dunn setlist like?
With over 20 No. 1 singles under their belts, you are certain to hear their top hits including "My Maria," "Lost and Found," "Red Dirt Road," "Ain't Nothing 'Bout You," "Neon Moon," "Only in America," "Rock My World (Little Country Girl)," "You Can't Take the Honky-Tonk Outta The Girl" and "Boot Scootin' Boogie."
What can I expect from a Brooks & Dunn concert?
A Brooks & Dunn concert might have you thinking you are actually at a rock concert heavily influenced by classic country. At times, over half a dozen guitars are rocking in harmony. There is a lot of excitement, lights and energy. Crowds are singing and dancing along. The chemistry between the two is evident and the show feels like a perfectly orchestrated party. Their Vegas shows with Reba McEntire sometimes end on "Only In America" with a group of Navy sailors saluting — an only in America classic move.
Will Brooks & Dunn perform near me?
Check StubHub often to see if Brooks & Dunn will be performing in a city near you. You can catch them performing in places like Hoosier Park Racing and Casino in Anderson, Ind., the Allentown Fairgrounds in Allentown, Pa. and The Grand Theater at Foxwoods Resort Casino in Ledyard, Conn. You can also purchase tickets for their Las Vegas, Nev. performance with Reba McEntire at The Colosseum at Caesars Palace.
Back to Top
Epic events and incredible deals straight to your inbox.