Looking for Bonnaroo Music Festival outside the UK?
Check out one of our international sites.
Take me there
Bonnaroo Music Festival venues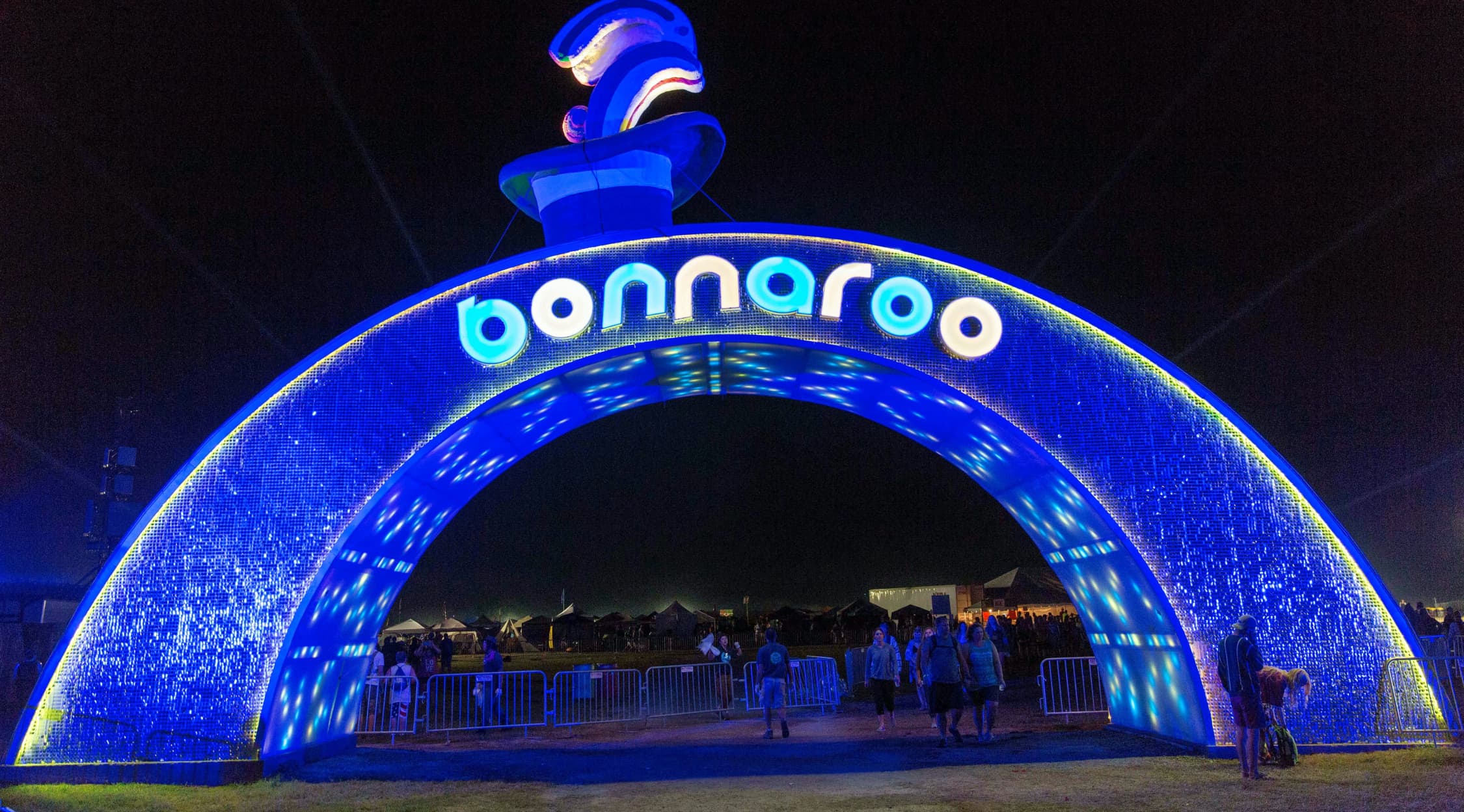 Zuma
Bonnaroo Music Festival Tickets
Bonnaroo Music Festival Tickets
Founded in 2002, the Bonnaroo Music and Arts Festival is a four-day celebration of folk rock, jam bands and diverse musical genres from indie rock to hip-hop and beyond. Bonnaroo is held at Great Stage Park, a seven-acre green space in Manchester, Tennessee, and typically starts on the second Thursday in June. GQ has ranked Bonnaroo as one of the 10 best worldwide music festivals while Rolling Stone ranked the founding of the festival as one of 50 moments that changed rock and roll.
The Legacy of Woodstock
Bonnaroo is inspired by the iconic music festivals of the 1960s and 1970s, most notably The Woodstock Music and Art Fair in 1969 and the Monterey International Pop Music Festival in 1967. The team behind Bonnaroo, whose members met in college, named the festival after the Creole word for a great time. The inaugural year of the festival sold out in two weeks and drew more than 70,000 attendees, with performers including the String Cheese Incident, Ween, Trey Anastasio of Phish and Norah Jones.
Where can I buy Bonnaroo Music Festival tickets?
When Bonnaroo tickets go on sale, you can snag your spot at StubHub. Whether you plan to camp out for all four days of the festival, pop in for a single day of music or go all out with a VIP experience, StubHub has your passes for this once-in-a-lifetime revelry.
Who's on the lineup for Bonnaroo in 2020?
Bonnaroo always brings in some of the biggest names in music. For 2020, the Bonnaroo lineup hosts such names as Grand Ole Opry, Tool, Miley Cyrus, Bassnectar, The 1975, Big Wild, Lizzo, Flume, DaBaby, Run the Jewels, Tame Impala, Lana Del Rey, Leon Bridges, Young Thug, Rezz, and many more. Check StubHub for ticket prices and grab your ticket to a music festival unlike any other today!
When is Bonnaroo Music Festival in 2020?
Bonnaroo Music Festival will be held in Manchester, Tennessee, from June 11-14, 2020. Festival performers for the upcoming event have not yet been announced. Expect more information and a ticket sale date in January 2020 if past year festivals are any indication.
What are some of the most iconic Bonnaroo performances?
The Beastie Boys played their final performance at the 2009 Bonnaroo Music Festival. Soul legend Bobby Womack gave his last performance at the 2014 festival just two weeks before his death. Hip-hop finally found a place at Bonnaroo when rapper Jay-Z played an unforgettable set in 2010. In 2007, attendees saw a full 90-minute Led Zeppelin jam session featuring none other than original member John Paul Jones along with Ben Harper and Questlove of The Roots.
What are the stages at Bonnaroo?
Although the festival switches up its offerings each year, the grounds do have several permanent stages each year. These usually include Centeroo, which features both festival entrances as well as merchants, vendors and activities; the What Stage, which is the main stage where the headlining act plays; the Which Stage, which usually features the last show before the headlining act as well as a special late-night performance; the This and That tents, which host additional performances as well as the annual Sooperjam; and the Other stage, a small tent that hosts electronic dance music (EDM) acts.
What attractions will I experience at the Bonnaroo Music Festival?
Although Bonnaroo is mostly about music, you'll have plenty of other pursuits to experience on the festival grounds. Since its early days, the festival has included a comedy tent with acts like Mike Birbiglia and Jim Breuer. You'll also find club- and bar-themed venues, information about environmental causes, presentations by related nonprofit organizations and much more.
Back to Top
Epic events and incredible deals straight to your inbox.