Looking for Bad Bunny outside the UK?
Check out one of our international sites.
Take me there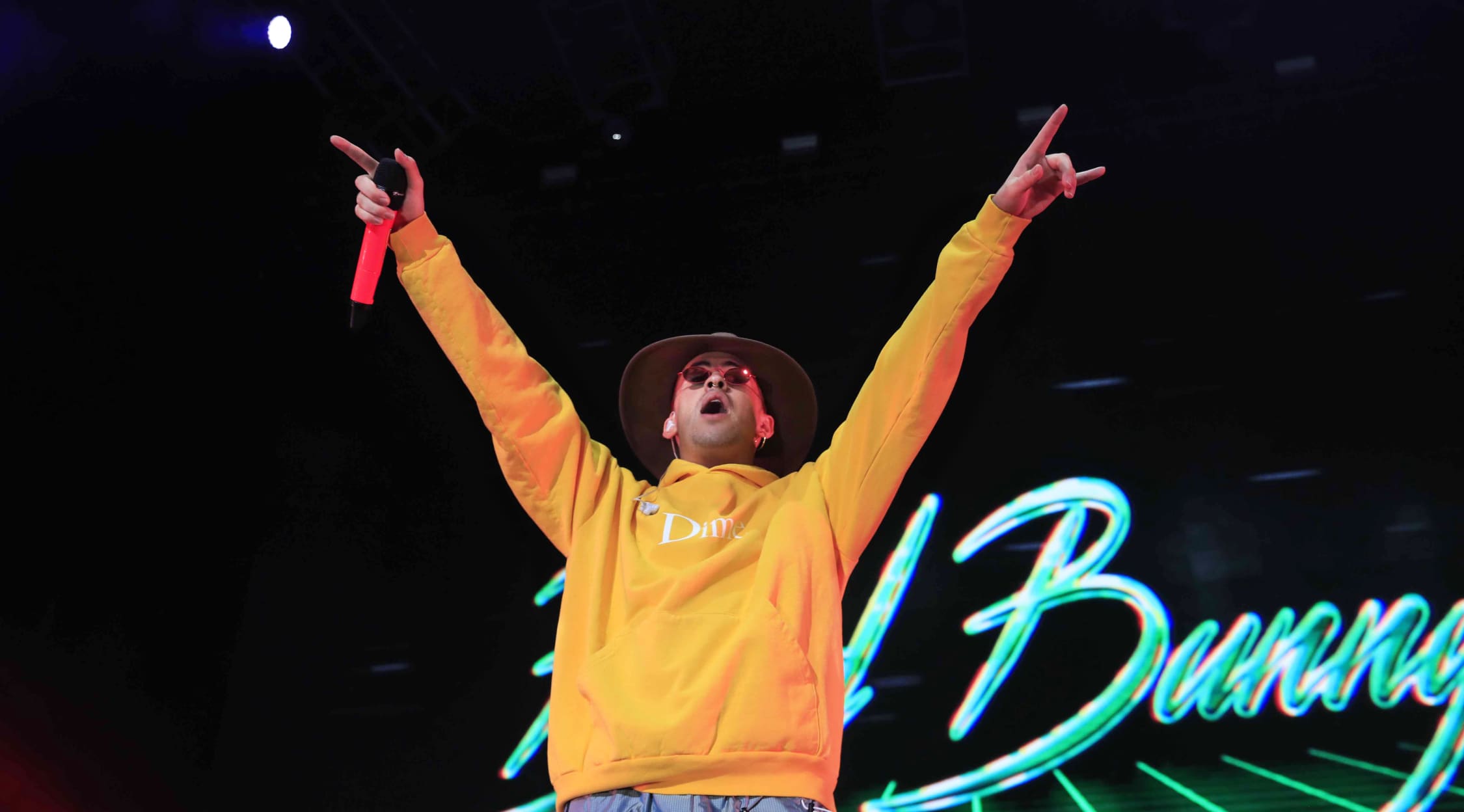 Zuma
Bad Bunny Tickets
Bad Bunny Tickets
Bad Bunny, born Benito Antonio Martinez Ocasio, emerged from obscurity as a supermarket employee in Puerto Rico to become a popular Latin trap and reggaeton artist through SoundCloud. After releasing his song "Diles" on the Internet music site, Bad Bunny was snatched up by the record label Hear This Music. Bad Bunny's genre of choice, Latin trap, is a niche subset of trap music infused with slices of hip hop and reggaeton. Even after being signed to a record label, Bad Bunny wasn't able to break into the Latin trap scene until he released his hit single "Soy Peor." In 2018, Bad Bunny broke through another musical barrier, this time collaborating with Cardi B and J Balvin to produce Billboard No. 1 single "I Like It", a trilingual explosion of Spanish, English and Spanglish featuring Bad Bunny's rap.
Es Mejor
Bad Bunny gives homage to some of his musical predecessors who influenced him, like the Ramones and Daddy Yankee. His success has exceeded the expectations of his record label, and he continues to stretch the boundaries of Latin trap every year. "I Like It" won the MTV Video Music Award for Song of Summer. In 2018, Bad Bunny was crowned the Latin American Artist of the Year by Latin Music Awards, with "Mayores" winning the category for Favorite Urban Song. Bad Bunny's remix of "Te Bote" was named Remix of the year by Premios Lo Nuestro and the Telemundo Tu Musica Urban Awards. Bad Bunny has an international following in South America, Central America, Puerto Rico and diaspora communities in the US. Even fans who may not speak Spanish will find themselves nodding along to the beat set by the cadence of Bad Bunny's rap tracks or the pulsing beat that serves as the background for some of his more melodic numbers. His tracks, whether solo endeavors or collaborations, regularly make the Billboard Top 40 if not the Top 10.
Where can I buy Bad Bunny tickets?
Bad Bunny tickets are available at StubHub. StubHub's secure ticket-purchasing platform is on computers and mobile devices, and you're guaranteed to get valid tickets.
Where is Bad Bunny playing?
Bad Bunny is an international performer. He's played in iconic locations like Madison Square Garden and the Jose Miguel Agrelot Coliseum. His upcoming performances are in Texas, Canada and Mexico.
What can I expect from Bad Bunny?
Bad Bunny is a unique performer. Expect Bad Bunny to give a vivacious performance and show off some of his quirky fashion sense through spiked hair, over-the-top outfits and painted nails. You'll hear him sing and rap in multiple languages. Bad Bunny performances are accompanied by stunning digital visual graphics that change with each song. His versatility means that there'll be a song for everyone in the audience.
What is a Bad Bunny concert setlist like?
Bad Bunny's tour setlist will feature songs from the album Oasis, his latest collaboration with J Balvin. He also tends to play crowd favorites, such as "Estamos Bien," "Ni Bien Ni Mal" from the X100pre album and "200 MPH." Fans can also expect to hear "Mia," his collaboration with Drake.
How long is a Bad Bunny concert?
Bad Bunny concerts last for a couple of hours. Sometimes, Bad Bunny will feature local artists as opening acts or during intervals in his setlist. Many of his songs are performed with enthusiastic backup dancers to keep the crowd pumping.
Will Bad Bunny tour in 2019?
Bad Bunny will be touring in 2019 in the US, Puerto Rico and abroad. His international tour will have stops in Barcelona, Spain; Mannheim, Germany; and Paris, France.
Back to Top
Epic events and incredible deals straight to your inbox.