Looking for Andrew Dice Clay outside the UK?
Check out one of our international sites.
Take me there
Venues for Andrew Dice Clay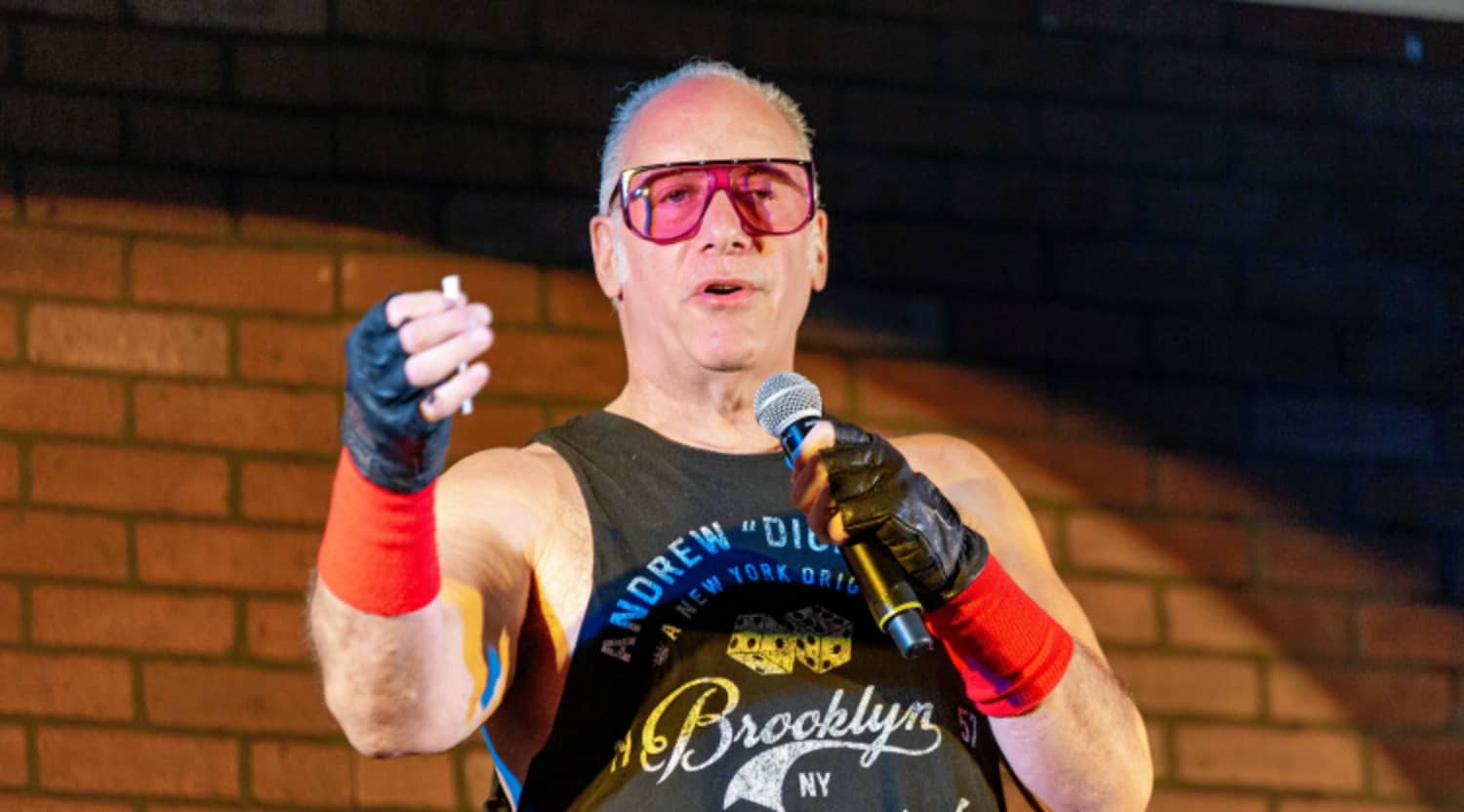 Zuma Press
Andrew Dice Clay Tickets
Andrew Dice Clay Tickets
Andrew "Dice" Clay has been in entertainment for over 40 years. Clay is known for his edgy comedy that pushes the boundaries of his audience. Early on in his career, Andrew Clay created the "Diceman" character. Clay has stated that the character was a combination of many people he knew while he was growing up in Brooklyn, N.Y. During his career, Clay has been in multiple movies, TV shows and comedy specials. When you book a show to see Andrew Dice Clay live on stage, you'll get to enjoy his standup comedy in addition to up-and-coming comedians who open the show.
I'm Over Here Now
Clay's popularity throughout the 1980s allowed him to accomplish things that were never done before by a comedian. Clay was the first comedian to sell out New York's Madison Square Garden for two consecutive nights. The same year that he sold out Madison Square Garden and performed for 38,000 people in attendance, he also sold out the LA Forum and the Nassau Coliseum on Long Island. Later in his career, Clay developed his acting resume. He won acclaim for his roles in films that include A Star is Born and Blue Jasmine and the Martin Scorsese television show Vinyl.[6] His earlier acting credits include, M*A*S*H, Diff'rent Strokes, Pretty in Pink, The Adventures Of Ford Fairlane and many more.
Where can I buy Andrew Dice Clay tickets?
You can get Andrew Dice Clay tickets at StubHub, the world's largest ticket marketplace.
Where does Andrew Dice Clay perform
Andrew Dice Clay has performed live comedy for audiences all over the world. He has recently gone to cities that include Atlantic City [8], Las Vegas, Coral Springs, West Nyack and many more. He often performs at smaller comedy clubs like The Laugh Factory in Los Angeles.
What can you expect from an Andrew Dice Clay tour?
Andrew Dice Clay's comedy style has evolved since the height of his popularity in the 1980s, but he is still not afraid to go over the edge. Though his critics have attacked him for many reasons throughout his career, Clay believes that he says what he says in the name of comedy. When you buy Andrew Dice Clay tickets, remember that according to Clay, none of it is to be taken seriously, and it is all meant to make people, himself included, laugh.
What comedians were influenced by Andrew Dice Clay?
Clay influenced many comedians during his 1980s rise through the comedy industry. Two comedians that he had a big influence on, and later ended up working with, were Jim Norton and Jim Florentine. Clay also had an influence on comedy superstar Chris Rock's career. Before a performance, Clay stated that he gave words of advice to Chris Rock to ignore his critics and remember his family and other supporters.
Does Andrew Dice Clay tour with other comedians?
Andrew Dice Clay often chooses comedians to open for him for a period of time, a role that Jim Norton fulfilled in the late 1990s and early 2000s. Currently, he brings Philadelphia comedian Eleanor Kerrigan to open for him on his tour dates. Additionally, he has gone on a national tour with legendary comedian Roseanne Barr.
What performers are similar to Andrew Dice Clay?
There are many comedians whose comedy style is similar to Andrew Dice Clay's. Lisa Lampanelli, Ron White, Jim Breuer and Rich Vos all rely on shocking the audience with offbeat comedy like Andrew Dice Clay does.
Back to Top
Epic events and incredible deals straight to your inbox.