Looking for Pepe Aguilar outside the UK?
Check out one of our international sites.
Take me there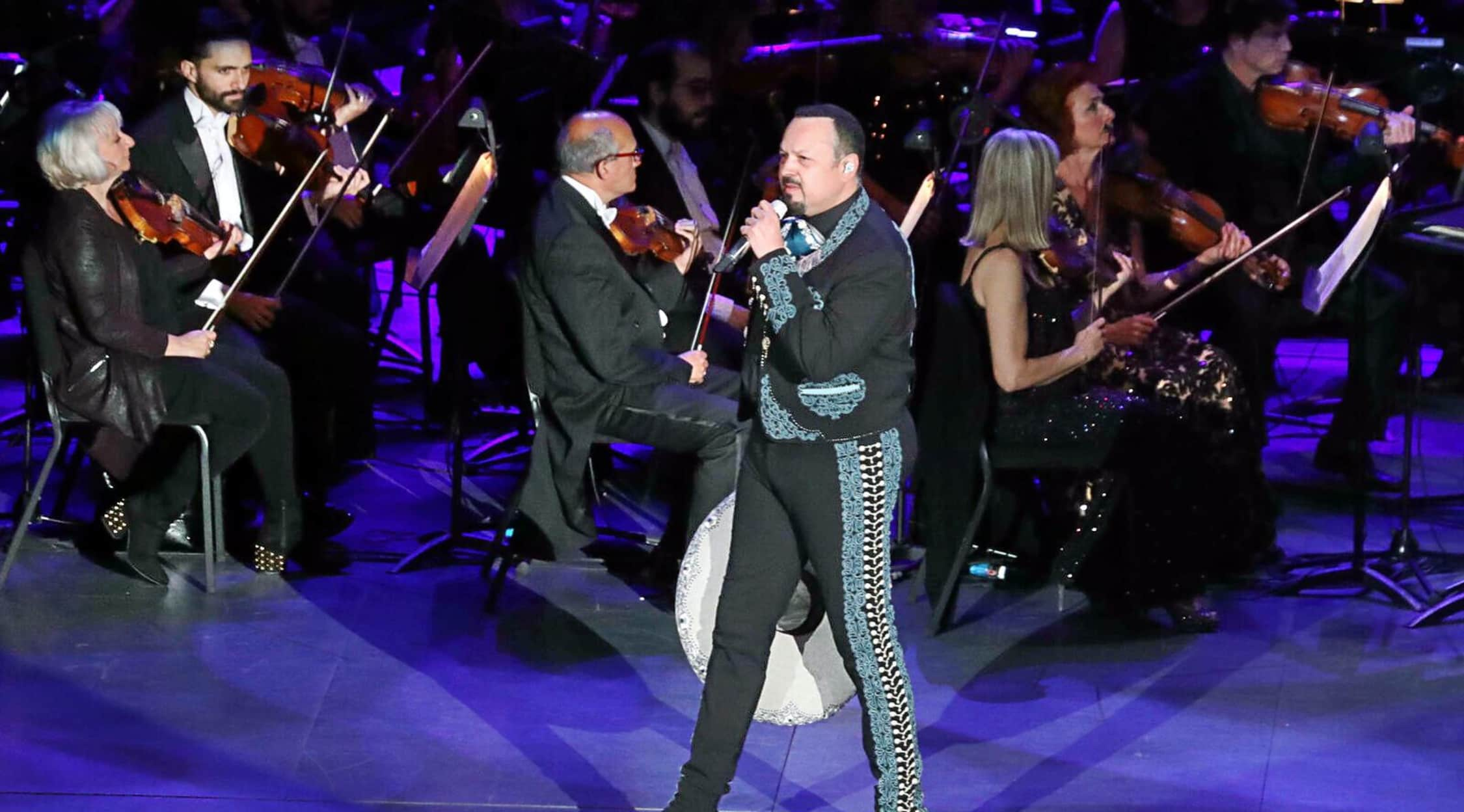 Zuma
Pepe Aguilar Tickets
Pepe Aguilar Tickets
With over 12 million in worldwide album sales and his own star on Hollywood's Walk of Fame, Pepe Aguilar is a true international superstar. Born in San Antonio, Texas, and raised in Zacatecas, Mexico, the cross-cultural influences evident in his music started early on. As a teen, he was already counting The Who and Pink Floyd among his formative musical influences for his first musical foray of his own, a rock band named Equs. It didn't take long after that for more Latin and pop elements to infuse his sound and define his musical evolution and identity.
Un Destino Musical
Music was practically Pepe Aguilar's destiny, born to two talented Mexican singers and actors, Flor Silvestre and Antonio Aguilar. Indeed, he performed his first concert when he was only 3 years of age, accompanying his father onstage at New York's Madison Square Garden. His affinity for the stage also developed into an acting career alongside his musical one.
Where can I buy Pepe Aguilar tickets?
Buy your Pepe Aguilar tickets at StubHub, where your purchases are protected with the StubHub FanProtect huarantee. To order your tickets from the world's largest online ticket marketplace, choose between visiting the StubHub website or use the convenient mobile app.
What can I expect from a Pepe Aguilar concert?
Pepe Aguilar's music is a blend of modern pop and traditional Latin music, including Tejano music. He also infuses crossover elements of Latin pop, Latin rock and other forms of regional Mexican music, including vallenatos, cumbia, romanticas and banda. He's even been known to play a polka or two. Whatever the music, Pepe Aguilar shows are known for their big sound, with a band of 30 members or more typically accompanying him on stage. In addition to performing his own original songs at his shows, Pepe Aguilar often also performs songs from his tributes to two other Latin music legends, Juan Gabriel and Joan Sebastian, as well as his versions of regional Mexican standards.
What are the titles of some Pepe Aguilar songs?
Some of Pepe Aguilar's songs include "De Que Te Quejas Mujer," "El amar y el querer," "Cuestión de Esperar," "No Vale la Pena," "Corazón Esteril," "El lengua suelta," "Yo la Amo," "Por amarte," "Chaparrita," "Perdono y Olvido," "Ni Contigo, Ni Sin Ti," "Me Vas a Extrañar" and "Cielo Rojo."
Who has played with Pepe Aguilar live before?
Pepe Aguilar has performed live with his own children, Angela Aguilar and Leonardo Aguilar, themselves professional singers, as well as La Marisol (La Santa Cecilia), Natalia Lafourcade and Miguel Bose.
How many Grammy Awards has Pepe Aguilar won?
Pepe Aguilar has been nominated for five Grammy Awards and won four, those being Best Mexican/Mexican-American Album for Por Una Mujer Bonita in 2000, for Historias de Mi Tierra in 2006 and for 100% Mexicano in 2007 and Best Regional Mexican Music Album (including Tejano) for Bicentenario in 2011. Pepe Aguilar has also been nominated for five Latin Grammy Awards and won four, those being: Best Ranchero Album for Historias de Mi Tierra in 2006, for Enamorado in 2007, for Más De Un Camino in 2012 and for Lastima Que Sean Ajenas in 2014.
Where can I see the Pepe Aguilar tour?
Pepe Aguilar is touring throughout North, Central and South America. Among his stops in the US are Bert Ogden Arena in Edinburg, Texas, Anselmo Valencia Tori Amphitheater in Tucson, Arizona, River Spirit Casino in Tulsa, Oklahoma, and SAP Center in San Jose, California. Stops on Pepe Aguilar's tour through Mexico includes El Domo San Luis in San Luis Potosi, Plaza de Toros Monumental in Zacatecas and Arena Ciudad de Mexico in Mexico City. Stops on the Pepe Aguilar tour in Central America and South America include Forum Majadas in Guatemala City, Movistar Arena in Santiago, Chile, and a venue in San Jose, Costa Rica.
Back to Top
Epic events and incredible deals straight to your inbox.