Looking for Tracy Lawrence outside the UK?
Check out one of our international sites.
Take me there
Tracy Lawrence tour venues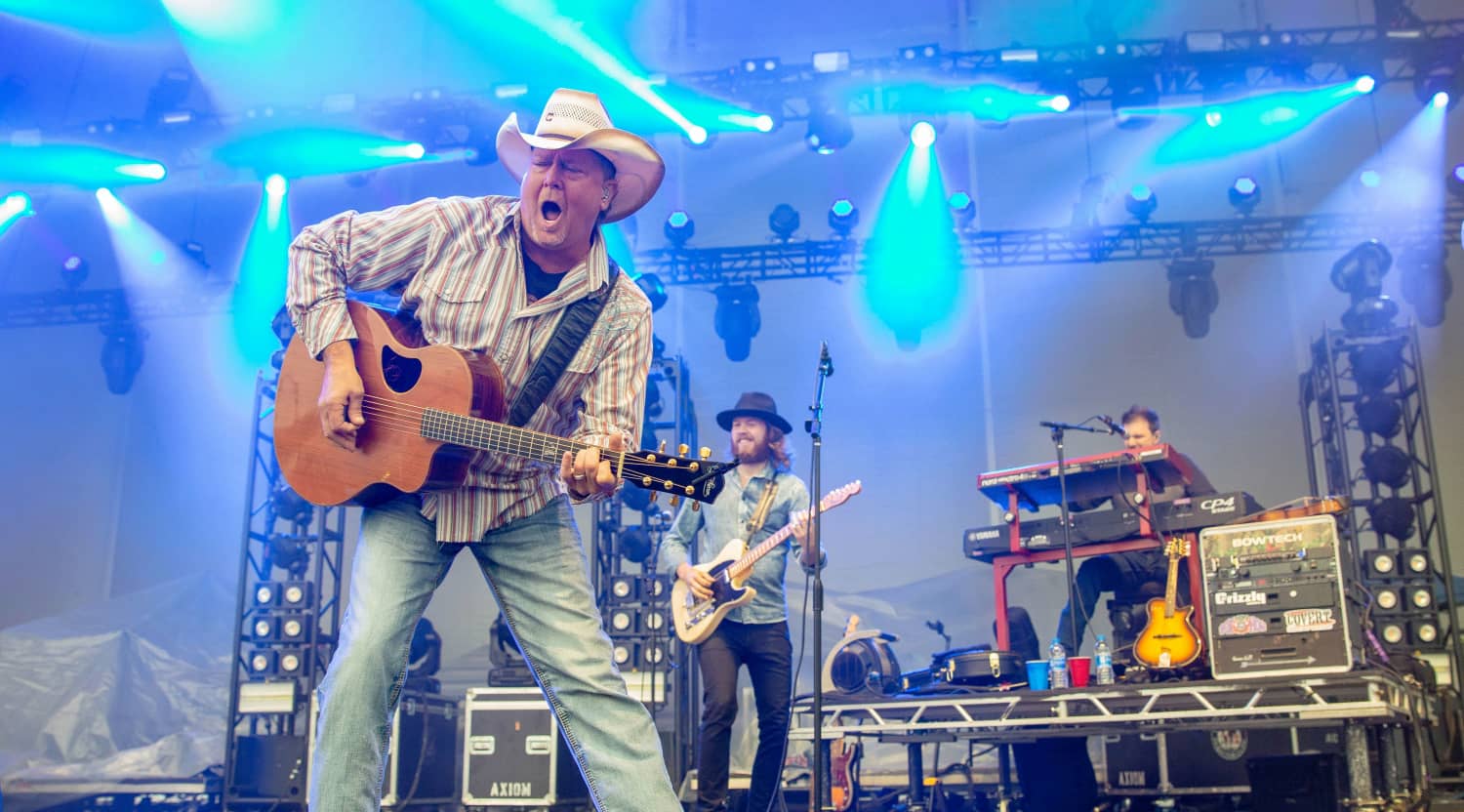 Zuma
Tracy Lawrence Tickets
Tracy Lawrence Tickets
Born in Texas and raised in Arkansas, Tracy Lawrence moved to Nashville to begin his country music career in 1990. He first achieved nationwide recognition with "Sticks and Stones," the title track from his 1991 debut album. The following year, Lawrence was named Top New Male Artist by Billboard magazine. Other recognizable hit singles include "Alibis," "I See it Now" and "Texas Tornado," some of which remain fan favorites at his live concerts. His style has been described as modern-day honky-tonk, eschewing the harder rock vibes of contemporaries such as Garth Brooks.
Climbing the Wall of Fame
Lawrence signed with Atlantic Records just seven months after his arrival in Nashville, and despite being sidelined by a serious injury, he managed to release Sticks and Stones in late 1991. In addition to the title track, the album spawned three more top 10 hits with "Somebody Paints the Wall," "Runnin' Behind" and "Today's Lonely Fool." His sophomore effort, Alibis, did even better with all four of its singles climbing to No. 1 on the Hot Country Sounds Chart. To date, Lawrence has released 15 studio albums and four greatest-hits compilations as well as several collaborative efforts. Lawrence has often cited country stalwarts George Strait and Merle Haggard as influences, and he collaborated with the late George Jones on a tune called "I Don't Need Your Rocking Chair" early in his career.
Where can I buy Tracy Lawrence tickets?
Tickets to the latest live performance by Tracy Lawrence can be found at StubHub, the world's largest online ticket marketplace.
Is Tracy Lawrence coming to a city near me?
Lawrence has a number of upcoming tour dates announced for cities throughout the southern and midwestern United States. Scheduled stops include the UGA Tifton Campus Conference Center in Tifton, Ga., the Waco Hippodrome Theatre in Waco, Texas, and Twin Arrows Navajo Casino Resort in Flagstaff, Ariz.
What can I expect from a Tracy Lawrence concert?
As Lawrence's career nears its fourth decade, you can count on legions of die-hard fans to show up at his live performances. Though the flavor of country music has seen significant shifts throughout his tenure as a musician, Lawrence has remained true to his honky-tonk roots, sticking with the traditional arrangements that helped make him a star. As a performer, he possesses a remarkable lack of ego, often drifting backstage to allow one of his band mates to take over the lead vocals for a certain number. Fan interaction is usually high with audience members sometimes storming the stage during the final moments of a performance.
How long does a Tracy Lawrence concert usually last?
Lawrence is a tireless performer with a long list of fan favorites to work through, and he seems to enjoy interacting with the audience. You can expect him to be onstage for about two hours, but plan on spending at least three hours at the venue, particularly if there's another act opening for Lawrence.
What does Tracy Lawrence's tour setlist look like?
Many of the top-ten singles from Lawrence's long career will make appearances at his live shows. "If The World Had a Front Porch," "Stars Over Texas," "As Any Fool Can See" and "Better Man, Better Off" are just a few examples. He may also toss in a cover tune or two - "The South Gonna Do It" by Charlie Daniels Band is one recent example.
Are there any musicians currently touring who are similar to Tracy Lawrence?
Lawrence has been compared to fellow country artists Alan Jackson, Tracy Byrd and Justin Moore, whom he plans to join on the "Late Nights and Longnecks" tour in 2020.
Back to Top
Epic events and incredible deals straight to your inbox.