Looking for Taj Mahal outside the UK?
Check out one of our international sites.
Take me there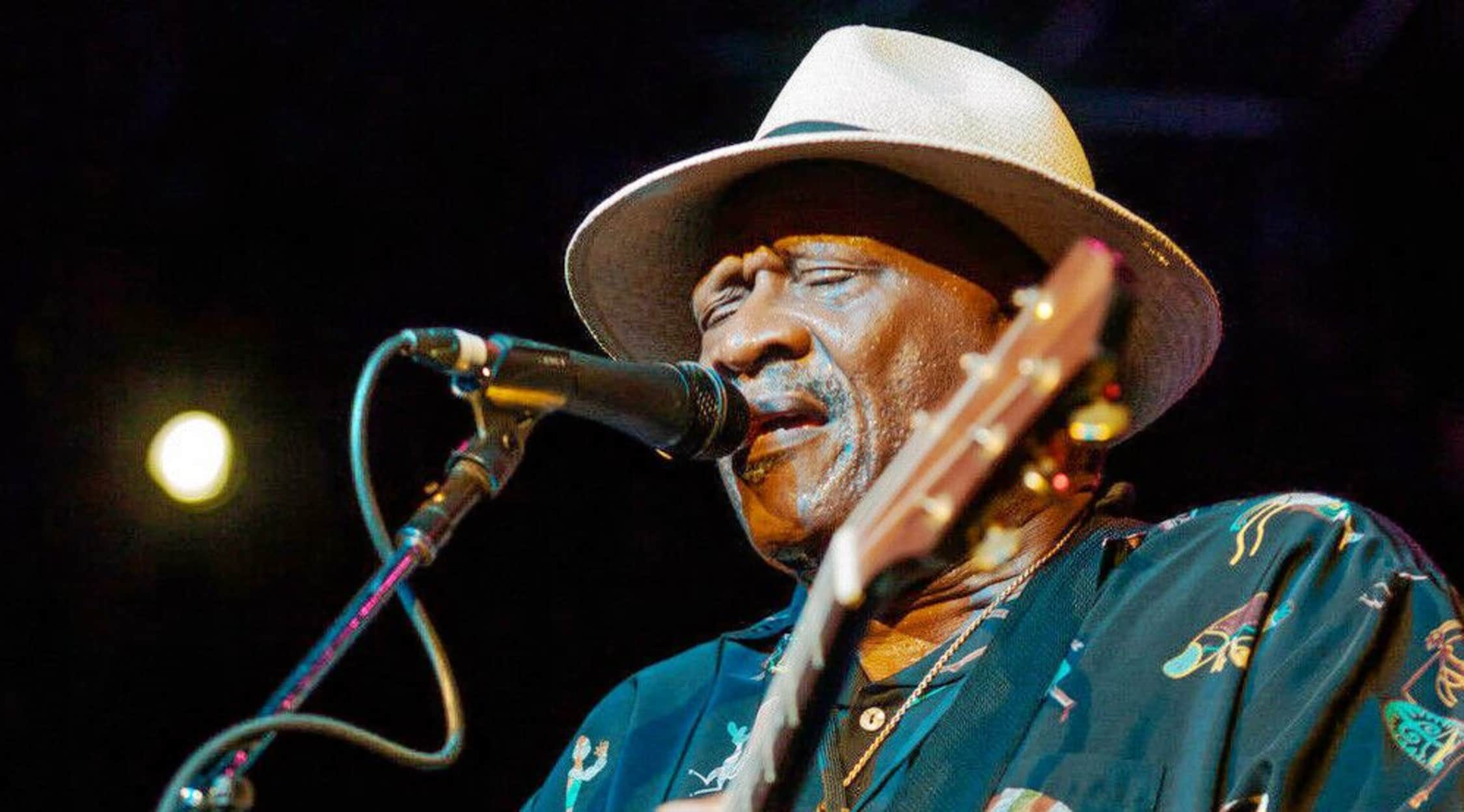 Alamy
Taj Mahal Tickets
Taj Mahal Tickets
In his more than five-decade career, Taj Mahal has helped to evolve and redefine blues music for generations to come. In large part, he's done this by incorporating the musical traditions of other parts of the world with standard American blues, which is reflected in his live concerts. Born Henry Saint Clair Fredericks in Harlem, New York, in 1942 and raised in Springfield, Mass., Taj Mahal always had music surrounding him, from his dad, an African-Caribbean jazz music arranger, to his mom, a singer in the local gospel choir. The shortwave radio his family owned picked up music from around the world, exposing him to the sounds of other cultures at a young age. He was also inspired early on by the jazz stylings of Milt Jackson, Thelonius Monk and Charles Mingus, and by the influences of his parents having grown up during the Harlem Renaissance, infusing in him a connection with his Afro-Caribbean roots.
Blues in His Blood
Taj Mahal's first forays into making music were piano lessons followed by studies in trombone, harmonica and clarinet. After his father passed tragically, his new stepfather let the 13-year-old Henry Jr. play his guitar, and the boy took lessons from a neighbor. Then, in high school, he sang in a doo-wop group. As a young adult, he moved to California and formed a blues rock band, The Rising Sons, with Ry Cooder. The rest, as they say, is legend. In 2014, Taj Mahal received the Lifetime Achievement Award from the Americana Music Association.
Where can I buy Taj Mahal tickets?
Get your Taj Mahal tickets at StubHub.
What can I expect from Taj Mahal?
Taj Mahal wows audiences with his masterful blues skills with influences of rock, reggae, R&B, country and jazz. His music is also marked by significant influences from various forms of world music, like South Pacific, African and Caribbean music. In addition to his primary instrument of the guitar, you'll also likely see him take a few turns on the piano, banjo and harmonica during his performances as well as other instruments.
How many Grammy Awards has Taj Mahal won?
Taj Mahal has been nominated for 13 Grammy Awards and won two. In 1997, he won Best Contemporary Blues Album for Señor Blues, and in 2000, he won the same award for Shoutin' in Key.
Who are the band members at Taj Mahal concerts?
When Taj Mahal performs with The Taj Mahal Trio, he plays guitar, banjo and keys and is joined by Bill Rich on bass and Kester Smith on drums. When he performs with the Taj Mahal Quartet, he, Rich and Smith are joined by Roger Glenn on woodwinds and vibraphone. When he plays with The Phantom Blues Band, Taj Mahal plays harmonica and is joined by Johnny Lee Schell on guitar, Larry Fulcher on bass, Mike Finnigan on keys, Joe Sublett on saxophone, Darrell Leonard on trumpet and Tony Braunagel on drums. Finally, when he plays with The Hula Blues Band, Taj Mahal plays acoustic and electric guitars and is joined by Pancho Graham on backing vocals and acoustic bass, Fred Lunt on Hawaiian steel guitar, Pat Crocket on backing vocals and Liliu ukulele, Michael Barretto on backing vocals and baritone ukulele, Wayne Jacintho on backing vocals and tenor ukulele, Kester Smith on drums and Rudy Costa on backing vocals, saxophones (tenor, alto and curved soprano,) piccolo flute, kalimba and clarinet. In all his bands, Taj Mahal also takes lead vocals.
Where can I see a Taj Mahal show?
You can check out a Taj Mahal concert at The Cabot in Beverly, Mass., Hart Theatre at The Egg in Albany, NY, The Academy of Music Historic Theatre in Lynchburg, Va., and Eccles Performing Arts Center in Park City, Utah. Taj Mahal is also scheduled at many upcoming music festivals, like Targhee Fest in Alta, Wy., and the Finger Lakes GrassRoots Festival in Trumansburg, NY.
What artists are similar to Taj Mahal?
Artists similar in sound and style to Taj Mahal include Keb' Mo', Dr. John, J.J. Cale, Ry Cooder, Johnny Winter, Freddie King, The Paul Butterfield Blues Band, Tedeschi Trucks Band, Buddy Guy and Albert King. Taj Mahal is also a cited influence of Seth Walker and Jack Johnson.
Back to Top
Epic events and incredible deals straight to your inbox.