Looking for Parachute outside the UK?
Check out one of our international sites.
Take me there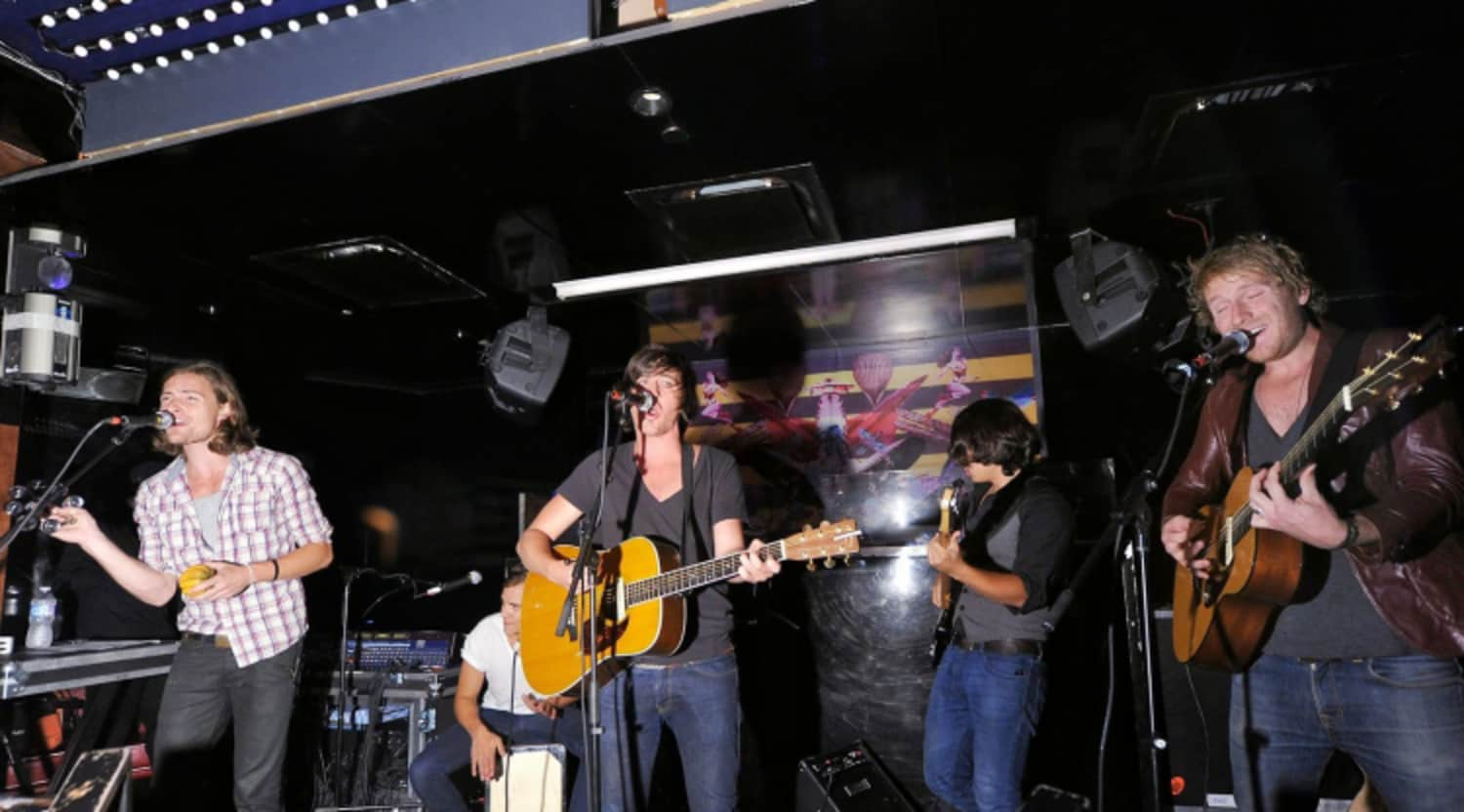 Getty RM
Parachute Tickets
Parachute Schedule
The band that formerly rocked its college town, Parachute, has made major progress over the past ten years. It is now an important player in the alternative pop rock scene. The band is now on tour and will be playing a number of shows across North America at some of its fans' favorite venues. Some of these spots include: Amos Southend in Charlotte, North Carolina; Rams Head Live in Baltimore, Maryland; State Theatre News Brunswick in New Brunswick, New Jersey; Sherman Theater in Stroudsburg, Pennsylvania; State Theatre in Portland, Maine; Upstate Concert Hall in Clifton, New York; Westcott Theatre in Syracuse, New York; Town Ballroom in Buffalo, New York; and more. It's a widespread tour that will provide ample opportunity for fans to catch a live performance.
Parachute Background
The band was formed while the members were still in high school. These members include: Will Anderson (vocals, guitar, piano); Johnny Stubblefield (drums); Christopher "Kit" French (saxophones, keyboards, vocals); Alex Hargrave (bass); and Nate McFarland (guitar, vocals). It was when the band moved to attend college in Charlottesville, Virginia that the band started to develop its sound, which is comprised of rock, pop, funk and soul. At the time, the band called itself, Sparky's Flaw. It started to gain a following in the college town. At one show, they band opened for Robert Randolph.
By 2005, the band released its first EP, One Small Step. It generated mild attention that helped grow the band's popularity. It was at this time that the band signed on with Red Light Management and later, Smash Records. As the band mates entered their last year of college in 2007, they released an EP and started work on the full-length album. After a few months later, the band renamed to Parachute. The band started to get songs placed, like "She is Love" and "Under Control" were on a Nivea campaign in 2009. It was also the year that the band signed with a major label and the band's music peaked at number forty on the Billboard charts. Parachute started to receive more and more recognition and accolades for its work and was invited to open for Kelly Clarkson. After working with Kelly Clarkson and Joe Brooks, the band went back to the studio and cut its second album, The Way It Was in 2011.The third album, Overnight, was released in 2013.
Parachute Albums
During the 2000s, Parachute released most of its music under the band name, Sparky's Flaw. It was not until much later that the band released its music under the name, Parachute. The band's discography is comprised of the following: One Small Step (2005); Sparky's Flaw EP (2007); Losing Sleep (2009); The Way It Was (2011); and Overnight (2013).
Parachute Trivia
Interestingly, Parachute shared the stage with Jonas Brothers and Taylor Swift in Times Square for New Year's Eve in 2008. It was initiated in part by the Nivea campaign. Nevertheless, it was the opportunity to play in front of more than a million people. During an interview with Marie Claire, front man Will Anderson discussed the song that was picked up by Nivea, "I wanted to write as straightforward a love song as I could. It really just came to me and took 10-15 minutes to write. We didn't think it was going to be anything and it really took on a life of its own. A couple of people heard it, our manager and friends and said we had to put it on the record so we did, not thinking there would be a reaction. Then Nivea picked it up for their ad campaign and it was a great opportunity. The reaction was so incredible that it segued into being our first single. It was a pleasant surprise and the song definitely had a journey that I did not expect it to once it was written." It was clearly a straightforward enough love song to resonate with a broad base of people, as well as the ad executives at Nivea. It definitely helped to launch the band into a whole new level.
Parachute Concert Experience
There is something quite interesting about seeing a live show performance of what was once Sparky's Flaw and now Parachute. The band of young men who came together to make music in high school, have come a long way together through college to make their way on stage in front of over a million people. During an interview, Will Anderson spoke to how crazy the transition from college band to playing a huge show was for them at the time, "For us to sit there, this little college band of guys rolling up in a van and playing with Lionel Richie, the Jonas Brothers and Taylor Swift. Love them or hate them, those are just huge names and to share the stage with them was amazing to us. We were very fortunate and it felt surreal when we were up there. It was probably one of the most amazing experiences in my life, playing for that many people." The music is melodic and will captivate many people, which is why the music has likely been placed in a number of shows and commercials, which has given the band the opportunity to grow by being throw in the pot of topnotch performers. It is music with which many can identify and that helps Parachute sell out shows and continue to grow its fan base.
Back to Top
Epic events and incredible deals straight to your inbox.