Looking for Kenny Wayne Shepherd outside the UK?
Check out one of our international sites.
Take me there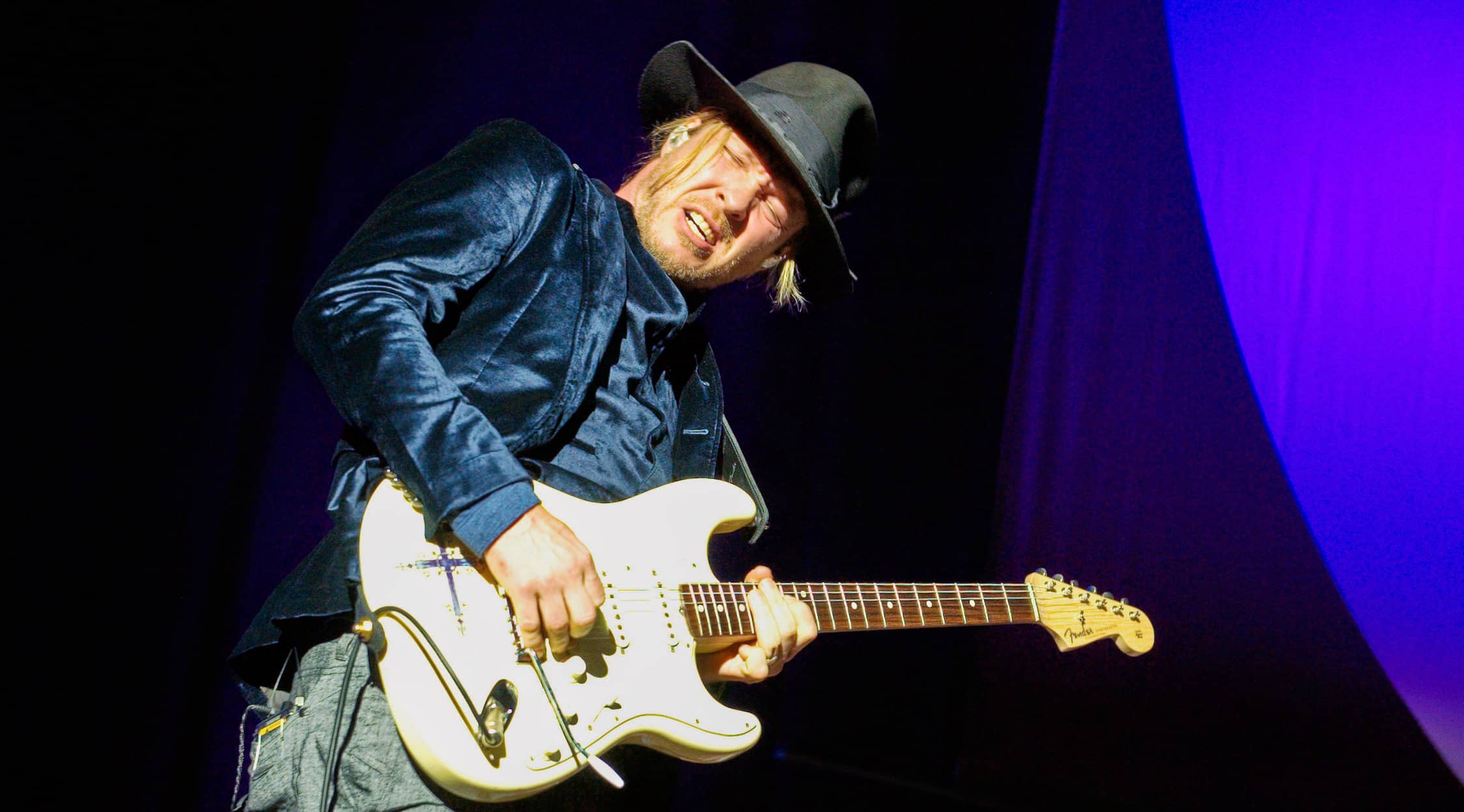 Zuma Press
Kenny Wayne Shepherd Tickets
Feel the Blues with Kenny Wayne Shepherd
There's always room in the music world for some down-and-dirty guitar-rock blues, and Kenny Wayne Shepherd has been providing the world with just that for decades. This virtuoso guitar player hailing from the Southern United States is regarded as one of the modern music world's foremost purveyors of wailing guitar blues. Those with Kenny Wayne Shepherd tickets are sure to enjoy this phenom's masterful instrumental work and vocals.
Schedule
Wayne and his band are on tour this fall. He's headed to England through October and November, stopping by the Plug in Sheffield, Crawley the Hawth in Crawley, Manchester Academy 2 in Manchester and The Assembly in Leamington Spa.
Trivia
Before you head out to immerse yourself in the bluesy, rocking tones of Kenny Wayne Shepherd's music, educate yourself with a bit of trivia about him. First, Kenny Wayne is married to the daughter (Hannah) of famed actor Mel Gibson. Second, Kenny Wayne once sat in to play with the house band for Late Night With Jimmy Fallon. Additionally, Kenny's single for "Blue on Black" contained a cover of the Jimi Hendrix classic "Voodoo Child."
Singer
Kenny Wayne Shepherd grew up in one of the most fertile places for American blues -- the heart of Louisiana. He was surrounded by music at an early age; his father was a concert promoter and disc jockey. He learned to play the guitar at the age of 7 and grew into a child prodigy, earning rave reviews from experienced bluesmen around the region at the age of 13.
Breakthrough
Shepherd was only 18 when his first record, Ledbetter Heights, was released to the public. Full of impressive bluesy guitar riffs and licks, the album earned a great deal of acclaim from the public and the critics, and it topped the Billboard blues charts. He followed his first album up with an equally-successful second record, Trouble Is.... His second album went to No. 74 on the Billboard 200, and made waves with its covers of the Dylan classic "Everything is Broken," and the Hendrix classic "I Don't Live Today." After Trouble Is..., Shepherd continued to climb the charts with his third record Live On (which reached No. 52 on the Billboard chart) and 2004's The Place You're In. He released How I Go in 2011.
Hit Albums
Throughout Kenny Wayne Shepherd's sterling career, he has produced an incredible number of fan-favourite, critically-acclaimed, down-home blues-rock records that are consistently ranked as the best in their genre. His debut, Ledbetter Heights, is an incredibly advanced and well-composed record for an 18-year-old artist, and he earned more raves for his follow-up Trouble Is... and The Place You're In. His impressively accomplished and ambitious record, 10 Days Out: Blues From the Backroads, chronicled his venture across the United States to play with accomplished blues musicians.
Show Experience
Fans with Kenny Wayne Shepherd tickets will enjoy some of the finest blues-rock on the music scene today. Shepherd fills the air with his phenomenal guitar work, keeping the atmosphere wailing and epic with unforgettable blues power. There aren't a lot of frills to the show. It's not overwhelmingly fancy. There's just plenty of down-home dancing and boogieing to the foot-stomping music, with Kenny's affable stage charisma right at its rocking core.
Back to Top
Epic events and incredible deals straight to your inbox.