Looking for Josh Abbott Band outside the UK?
Check out one of our international sites.
Take me there
Josh Abbott Band tour venues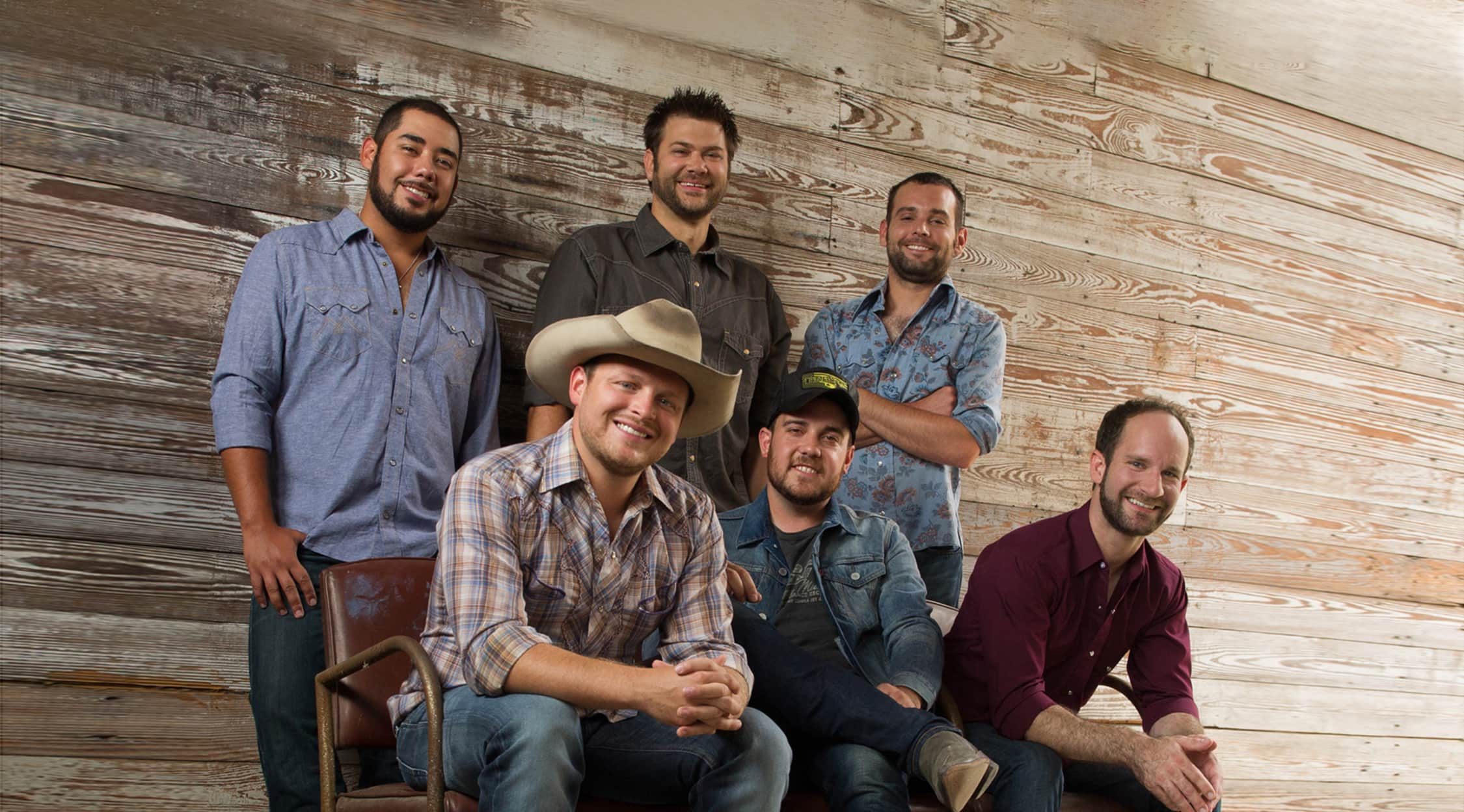 Rovi
Josh Abbott Band Tickets
Josh Abbott Band Tickets
Entering the country music scene in 2008 with its debut album, Scapegoat, Texas-based Josh Abbott Band has released five studio albums and two EPs. The band began picking up steam when its second studio album, She's Like Texas, made it onto the Billboard Top Country Albums chart. Josh Abbott Band broke into the Billboard 200 with its third album, Small Town Family Dream, peaking at No. 15 and selling over 65,000 copies. The band is known for singles such as "Oh, Tonight," "Hangin' Around" and "Amnesia," all settling within the top 50 of the Billboard Hot Country Songs chart. Josh Abbott Band released the EP Catching Fire in 2019 and is touring the country promoting its newest music.
Returning to Its Roots
The Josh Abbott Band can trace its beginnings back to 2006 when Josh Abbott and Austin Davis formed the band while at Texas Tech University. During an open-mic night, Davis began creating the band's sound when he took the banjo, often used for bluegrass, and adapted it to country music. Additional band members Edward Villanueva and Preston Wait brought new instruments to the group with the drums and fiddle, cementing its Texas country sound. The Josh Abbott Band quickly developed its own record label, allowing the group to experiment with its music. Many of the band's albums are written out of difficult personal experiences. Front Row Seat is a collection of songs written after Abbott's failed marriage. With its 2019 release of Catching Fire, the Josh Abbott Band goes back to its roots, playing upbeat, fun songs that get the crowd moving.
Where can I buy Josh Abbott Band tickets?
Get your Josh Abbott Band tickets at StubHub, the world's largest ticket marketplace. With every order backed by StubHub's 100% FanProtect guarantee, buying and selling tickets on your computer or mobile device is as safe and secure as ever.
Where can I attend a Josh Abbott Band concert near me?
Because the Josh Abbott Band enjoys touring heavily, it has a lot of shows for fans to choose from. You can see the Texas country band in concert at venues across the United States, such as the Riverwind Casino Showplace Theatre in Oklahoma, the Gramercy Theatre in New York, the Cannery Ballroom in Tennessee and 8 Seconds Saloon in Indiana.
Which songs might I hear at a Josh Abbott Band concert?
At a Josh Abbott Band concert, the band's setlist may include songs such as "My Texas," "While I'm Young," "I'm Your Only Flaw," "Whiskey Tango Foxtrot," "Where's the Party," "Road Trippin'," "Until My Voice Goes Out," "Hangin' Around," "She's Like Texas," "The Night is Ours," "Live It While You Got It," "Oh, Tonight," "Amnesia," "Kinda Missing You," "Texas Women, Tennessee Whiskey" and "Touch."
Who are the current members of Josh Abbott Band?
The Josh Abbott Band is a seven-member band featuring Josh Abbott on vocals and guitar, Edward Villanueva on drums, Caleb Keeter on guitar, Preston Wait on fiddle and steel guitar, Austin Davis on banjo, Jimmy Hartman on bass and David Fralin on keyboard and mandolin. Most of the members have stuck around since the band's early days.
Who has the Josh Abbott Band collaborated with?
A few of the Josh Abbott Band's songs are collaborations with other artists. "Wasn't That Drunk" off the album Front Row Seat features Carly Pearce. From the album, Small Town Family Dream, Texas country artist Pat Green is featured on "My Texas." Grammy Award-winning Kacey Musgraves lends her vocals to "Oh, Tonight," one of the band's best-known singles from the album, She's Like Texas.
Which artists are similar to Josh Abbott Band?
Fans of Josh Abbott Band may also enjoy the music of other Texas country artists such as the Randy Rogers Band, the Eli Young Band and Aaron Watson.
Back to Top
Epic events and incredible deals straight to your inbox.