JESUS CHRIST SUPERSTAR NATIONAL TOUR
Jesus Christ Superstar National Tour
Jesus Christ Superstar National Tour Tickets
Looking for Jesus Christ Superstar National Tour outside the UK?
Check out one of our international sites.
Take me there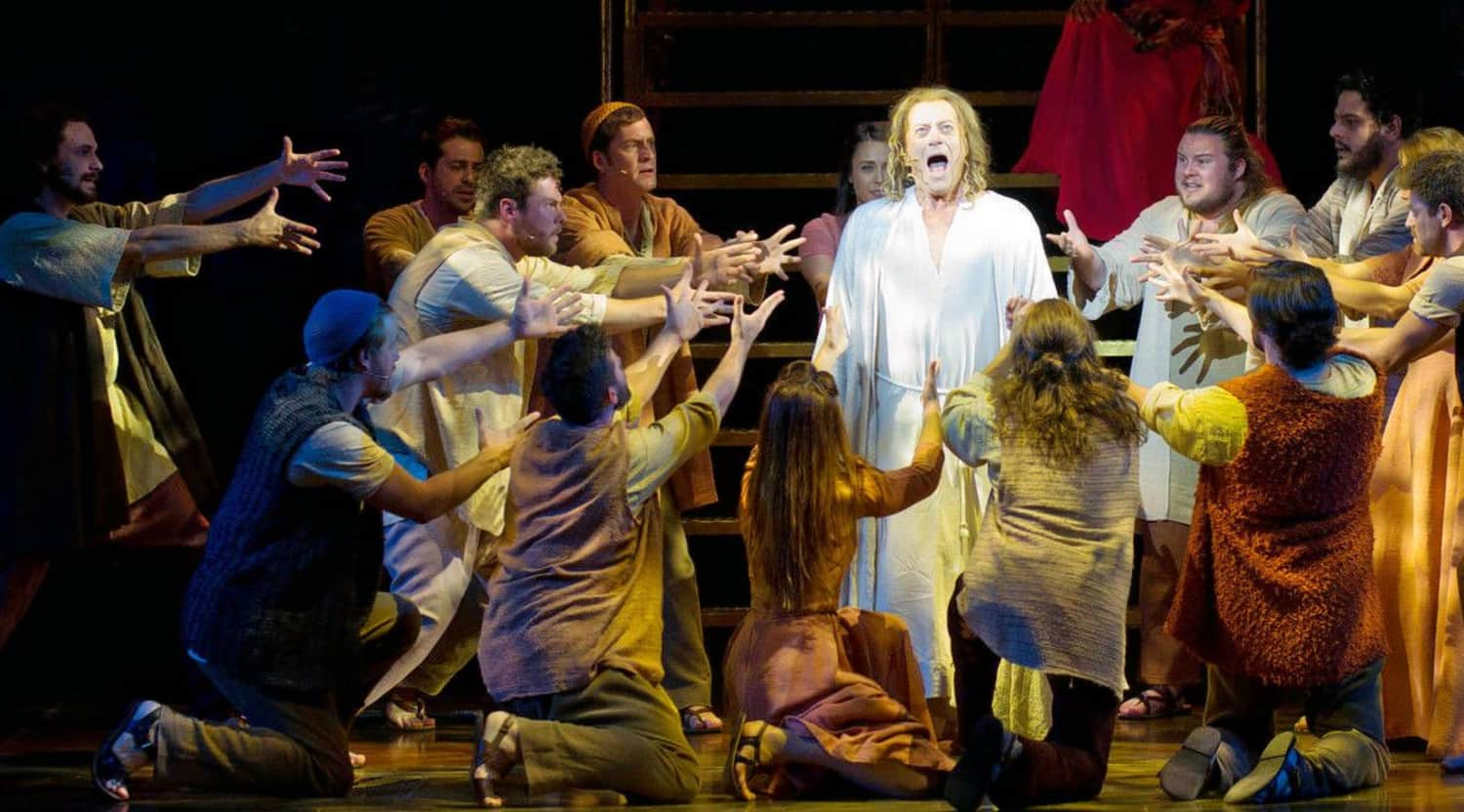 Alamy
Jesus Christ Superstar National Tour Tickets
The Timeless Appeal of Jesus Christ Superstar
"Jesus Christ Superstar" is one of Broadway's most acclaimed and beloved musicals. With its groundbreaking score and anachronistic narrative style, most critics say it changed the face of theatre forever, and you'd be hard pressed to find someone to disagree with that statement. "Jesus Christ Superstar" has been entertaining audiences around the world for over 40 years. By 1980, it had already become the longest running musical in London's West End. Featuring memorable music ("Everything's Alright" and "Gethsemane") and a narrative told from Judas's point of view, "Jesus Christ Superstar" is a one-of-a-kind theatre experience.
Plot
"Jesus Christ Superstar" is like a traditional Medieval Passion play -- that is, if a traditional Passion play can be set to rock music, feature slang and contemporary sensibilities, and have allusions to the modern world. The piece is loosely based on the Gospel's accounts of the last seven days of Jesus's life. It begins with the arrival of Jesus and his disciples in Jerusalem and ends with the crucifixion; the musical does not show Jesus's resurrection. The show underscores the struggles between Judas and Jesus. Needless to say, "Jesus Christ Superstar" has caused controversy over the years, and some productions have been banned or condemned by religious groups. Despite being a lightning rod for controversy, it is one of the most popular musicals in the world.
Schedule
"Jesus Christ Superstar" is scheduled for a limited run at the Bord Gais Energy Theatre in Dublin, Ireland. After that, the production will travel to the Edinburgh Playhouse in Scotland. Other venues to see Jesus Christ Superstar include Liverpool Empire, The Churchill Theatre Bromley, and Palace Theater in Manchester, England.
Trivia
"Jesus Christ Superstar" isn't just a successful theatre musical; it's also a successful film. Released in 1973, "Jesus Christ Superstar" was the eighth highest grossing film of that year. In addition to commercial success, the film also garnered widespread critical acclaim. Ted Neeley and Carl Anderson both received Golden Globe Award nominations for Best Actor in a Motion Picture Musical or Comedy. Yvonne Elliman was nominated for a Golden Globe as well. In 2000, a second film adaption of the musical was released.
Cast
"Jesus Christ Superstar" features an all-star cast of some of the best actors and actresses in the UK. From seasoned stage veterans to talented newcomers, these performances won't disappoint. The National Tour is one of the UK's most esteemed and respected player's groups.
Original Author
The 1970s were the heyday of the rock opera. With music by Andrew Lloyd Webber and lyrics by Tim Rice, "Jesus Christ Superstar" was originally released as a rock opera concept album in 1970. Ian Gillian, the lead singer of Deep Purple, sang the part of Jesus. Murray Head sang the role of Judas, which included the album's most popular song, "Superstar." The concept album was first staged on Broadway in 1971. It was nominated for 7 Tony Awards.
Producer
Bill Kenwright is producing the current run of "Jesus Christ Superstar." He is part of the creative team behind blockbuster musicals such as "Evita," "Cabaret," and "Blood Brothers." While the musical tells the world's oldest story, when you purchase Jesus Christ Superstar National Tour tickets, you will be treated to a contemporary and groundbreaking theatre experience.
Back to Top
Epic events and incredible deals straight to your inbox.