Looking for Insane Clown Posse outside the UK?
Check out one of our international sites.
Take me there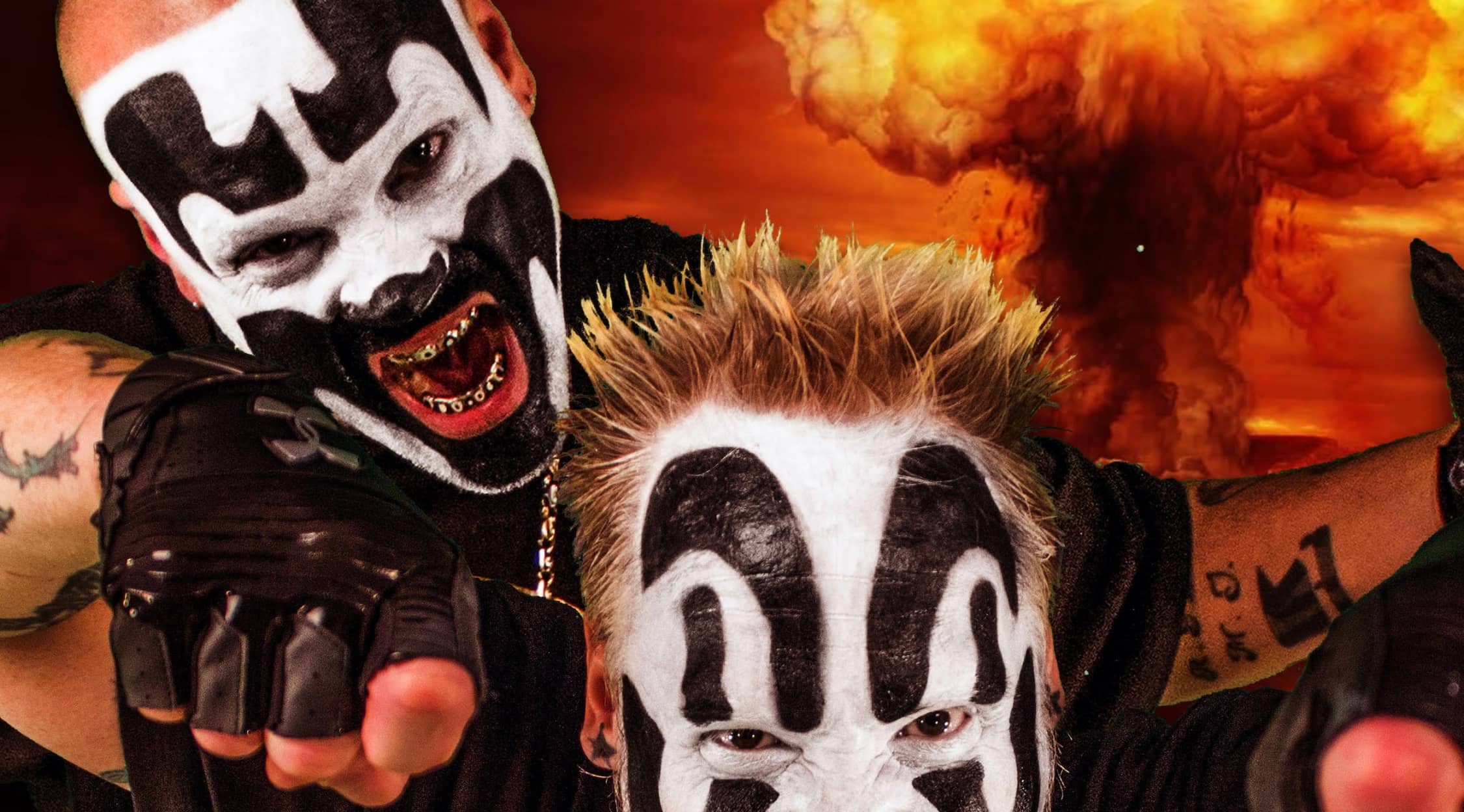 Insane Clown Posse Tickets
Otherwise known as ICP, Insane Clown Posse is a hip-hop horrorcore act from Detroit. The band is made up of Violent J – AKA Joseph Bruce, a rapper and professional wrestler – and Shaggy 2 Dope, whose real name is Joseph William Utsler, a record producer, DJ and wrestler. Both have been operating in Insane Clown Posse from when it first started performing in 1989. However, the other co-members of the collective, Kid Villain and John Kickjazz, both departed in the early 1990s. On stage, the duo is sometime joined by DJ Clay, who operates the turntables for the hip-hop artists. In recent years, both Mike Clark and Mike Puwal have acted in the capacity of producers for the band.
Insane Clown Posse's career path
Inspired by the likes of NWA, The Beastie Boys and 3rd Bass, Violent J and Shaggy 2 Dope first got rapping in the late 1980s, when they would also wrestle with one another. Bruce, then operating under the pseudonym of Jagged Joe, had an early single released with a group called the JJ Boys. After he became disillusioned with professional wrestling, Bruce got together with Utsler and his brother in a trio called Inner City Posse. In 1991, that band released an EP called Dog Beats. Soon afterwards, the group would alter its name to Insane Clown Posse and put out its first record under that moniker, Carnival of Carnage, for Psychopathic Records in 1992.
Insane Clown Posse went on to record The Ringmaster, which was certified as a gold-selling LP. It made the band's name and they were soon able to attract promoters at venues further afield from their home city, where they would be offered gigs. The next year, a third studio album came out. Entitled Riddle Box, it was similarly successful and would go on to reach number 16 in the US Top Heatseekers album chart. This work included songs such as "Chicken Huntin'" and "Dead Body Man". A 20th anniversary edition of the LP was released in 2015, which was accompanied by a tour of most of North America.
The Great Milenko was Insane Clown Posse's next album. It was a platinum-selling work and it spawned two minor hits in the UK charts: "Halls of Illusions" and "Hokus Pokus". Blending metal and rap, it featured Alice Cooper's vocals on one track and Slash's guitar work on "Hokus Pokus". A double album called Bizzar made it onto the shelves in 2000. This work peaked at a high of 21 in the US Billboard chart, sealing the band's reputation as a hit-making outfit. Charting at number four, The Mighty Death Pop! came out in 2012.
Similar to Insane Clown Posse
At StubHub, look for gigs by horrorcore acts such as Twiztid or Blaze Ya Dead Homie.
Back to Top
Epic events and incredible deals straight to your inbox.