StubHub's 2021 Fall Music Preview: Harry Styles #1 Top-Selling Touring Artist of the Fall; Most In-Demand Music Festivals and More
StubHub, the world's most trusted ticket marketplace, has announced the return of its annual Fall Music Preview showcasing the season's highest-selling touring acts, music festivals and more. Driven by pent-up fan excitement for the return of live concerts, fall's music landscape is shaping up to be bigger than the traditional summer concert season – and ticket sales on StubHub for concerts this fall are nearly on par with sales seen in fall 2019.
Highlights include:
Harry Styles is the #1 in-demand touring artist this fall, breaking Elton John's previous two-year streak at #1; Luke Combs and the Rolling Stones rank #2 and #3 respectively
EDC Las Vegas is this fall's most in-demand music festival, followed by Outside Lands at #2 and Austin City Limits at #3; music festivals are seeing more fans from out-of-state than years past 
Looking ahead to 2022, Billie Eilish, Bad Bunny, The Weeknd and Justin Bieber are ranked in the top 10 highest-selling tours of next year, based on StubHub ticket sales to-date

HOTTEST-SELLING CONCERTS AND FESTIVALS
Harry Styles' highly anticipated Love On Tour landed the icon at #1 in StubHub's list of the Top 10 In-Demand Artists, commanding more ticket sales than any other touring artist this fall. Jumping from his #10 spot in StubHub's 2017 ranking, the millennial pop act is seeing higher demand than long-standing legacy artists including the Rolling Stones at #3 and the Eagles at #9. 
Country artists make a strong showing in this season's music landscape, with Luke Combs, Garth Brooks and Chris Stapleton all landing in the Top 10. Notable newcomer to StubHub's list is rapper and singer-songwriter Machine Gun Kelly, whose Tickets to My Downfall tour took the #8 position.  
Taking a look at the season's hottest-selling music festivals, EDM takes center stage with Electric Daisy Carnival (EDC) Las Vegas landing at #1 on StubHub's Top 10 list. The return of San Francisco's Outside Lands and Texas' Austin City Limits (ACL) rank #2 and #3 respectively. Festival-goers are also willing to go the distance this year as music festivals are seeing higher amounts of ticket sales from out-of-state buyers than in years past. 
LOOKING AHEAD TO 2022
On StubHub, fans are already eagerly planning ahead to next year's concerts. Coming off the heels of momentous album releases in the past year and a half, Gen Z icon Billie Eilish, Latin-pop phenomenon Bad Bunny and megastars The Weeknd and Justin Bieber are among the Top 10 most highly-anticipated tours of 2022.  
"Fall's concert scene is sure to be one for the books with live music fans looking forward to catching their favorite acts on tour again – especially those of Harry Styles, who landed the British superstar at the top of our list of most in-demand artists," said Akshay Khanna, general manager of StubHub North America. "At StubHub, we're seeing significant levels of pent-up demand for live shows: ticket sales for concerts this fall are nearly on par with sales seen in fall of 2019. Much of this excitement is driven by the return of major music festivals like EDC and Outside Lands, which are seeing more sales from out-of-state than before."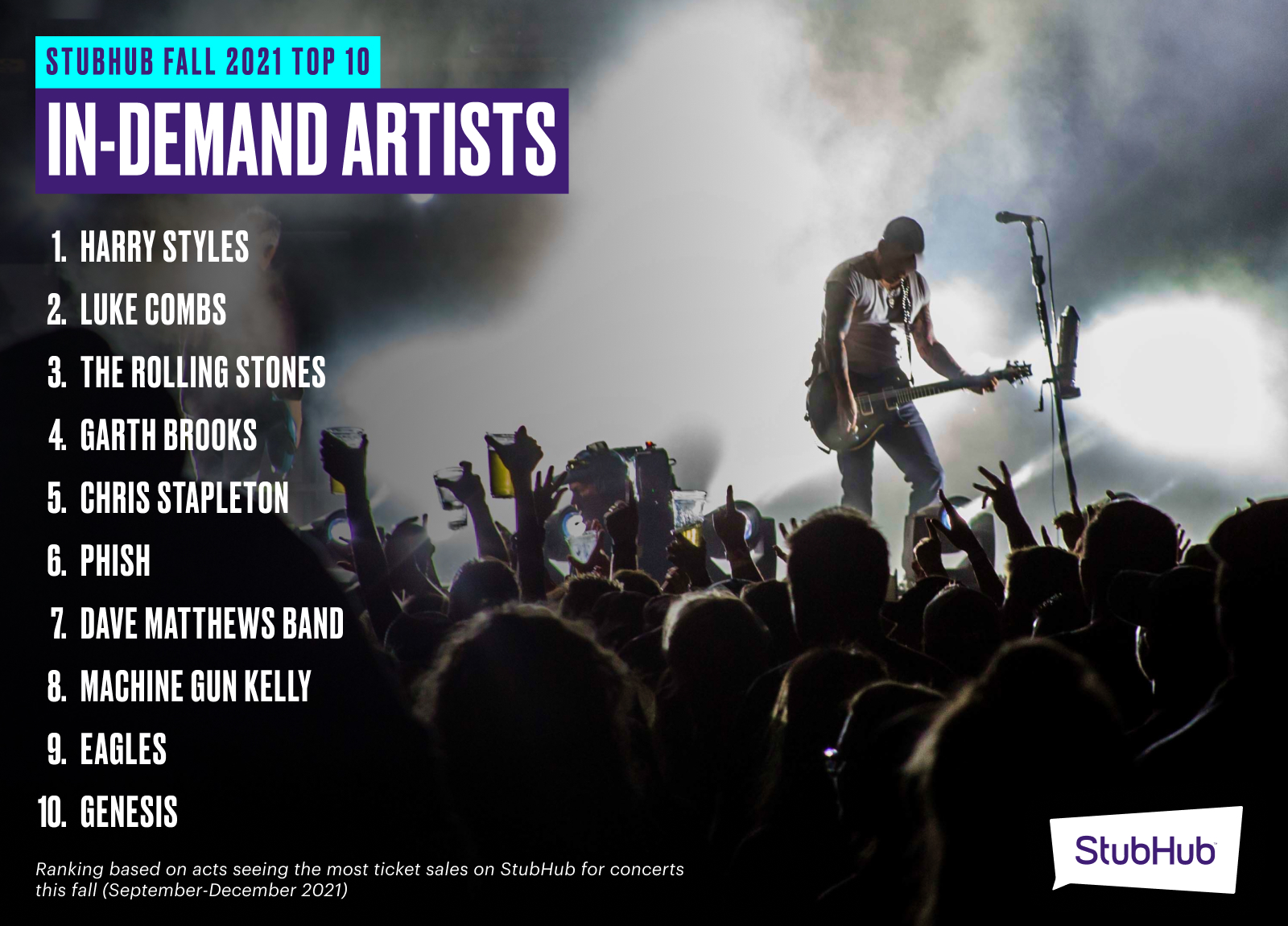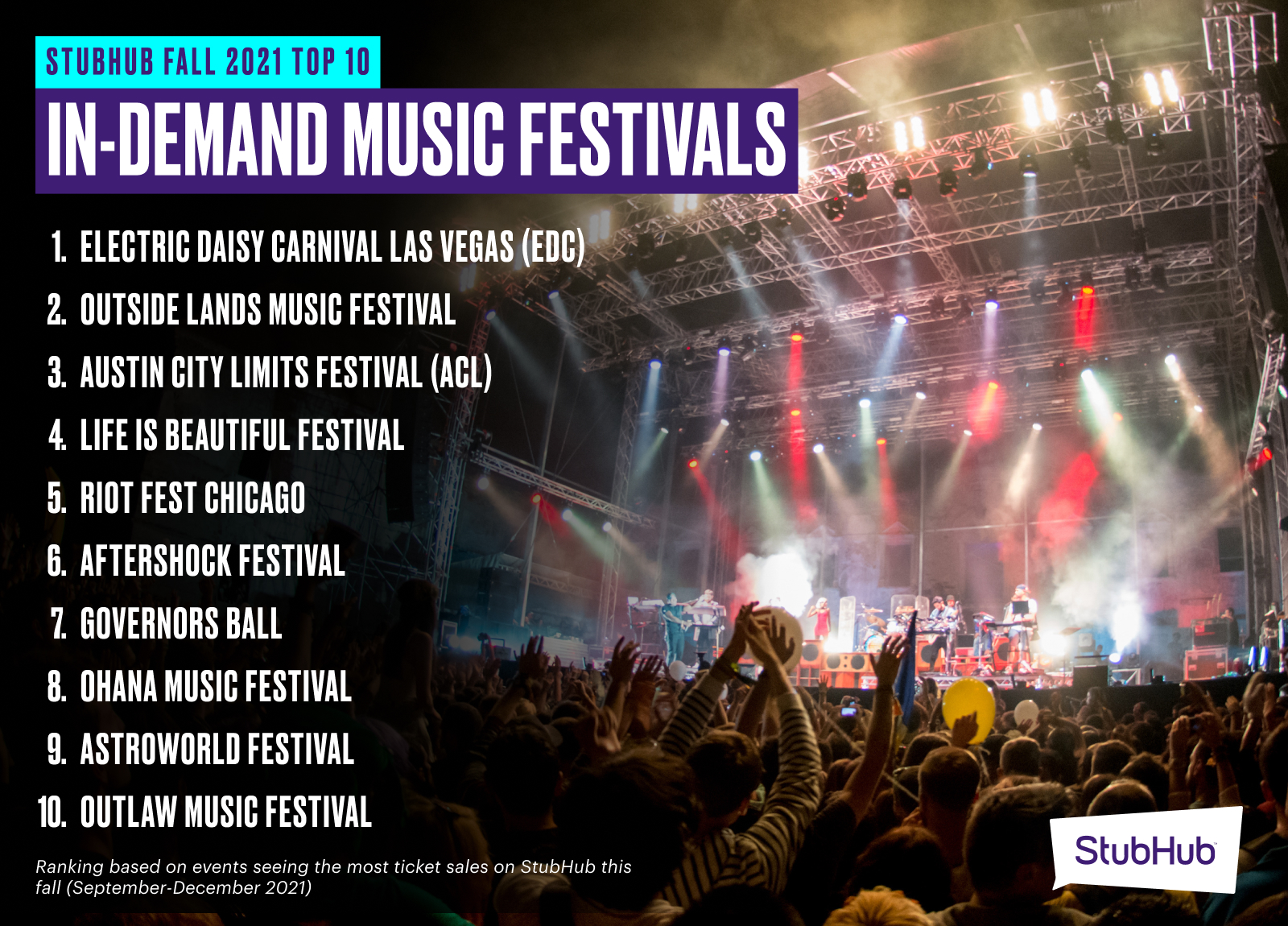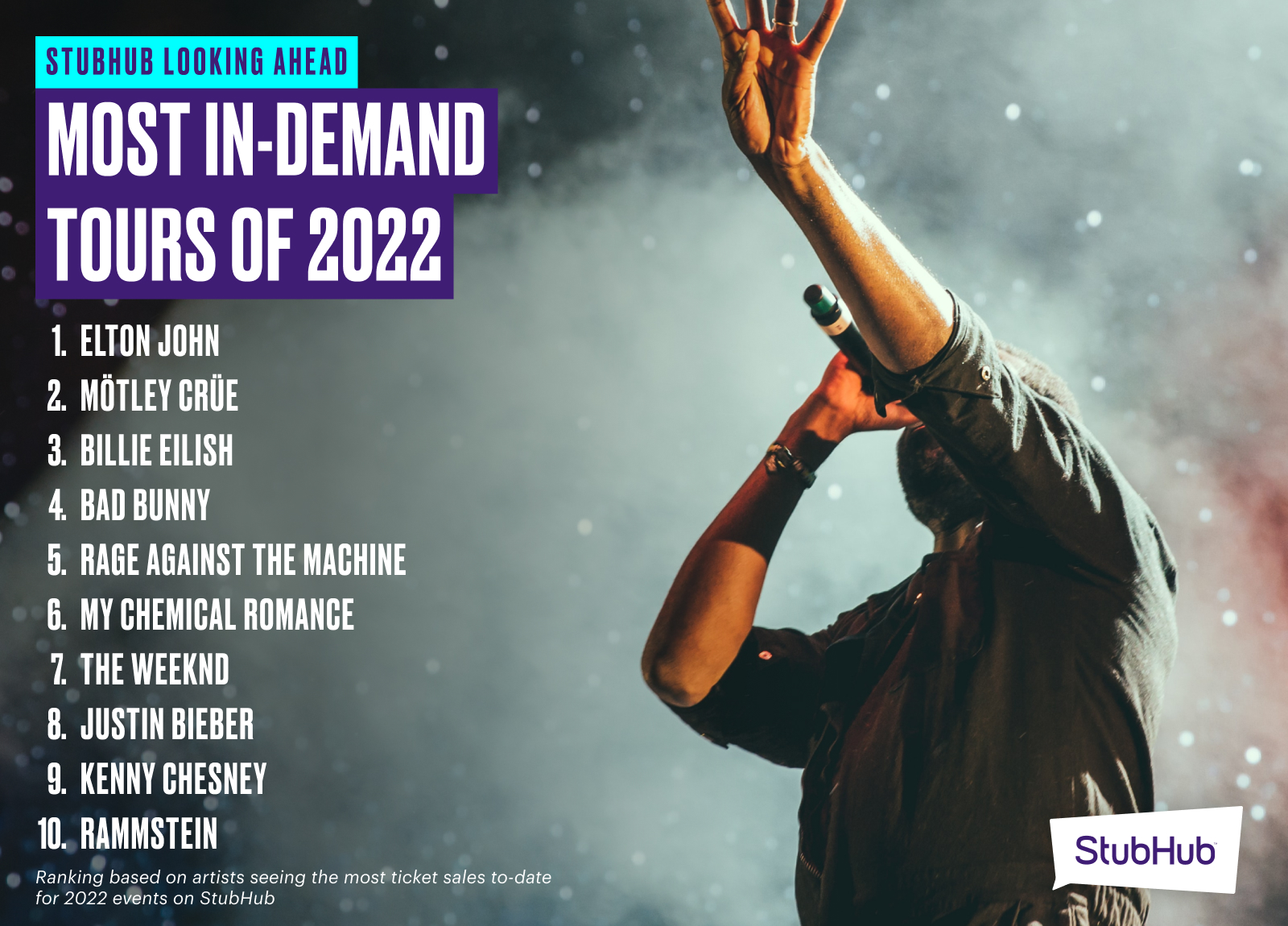 StubHub wants to make sure fans have these tips to be safe ticket buyers: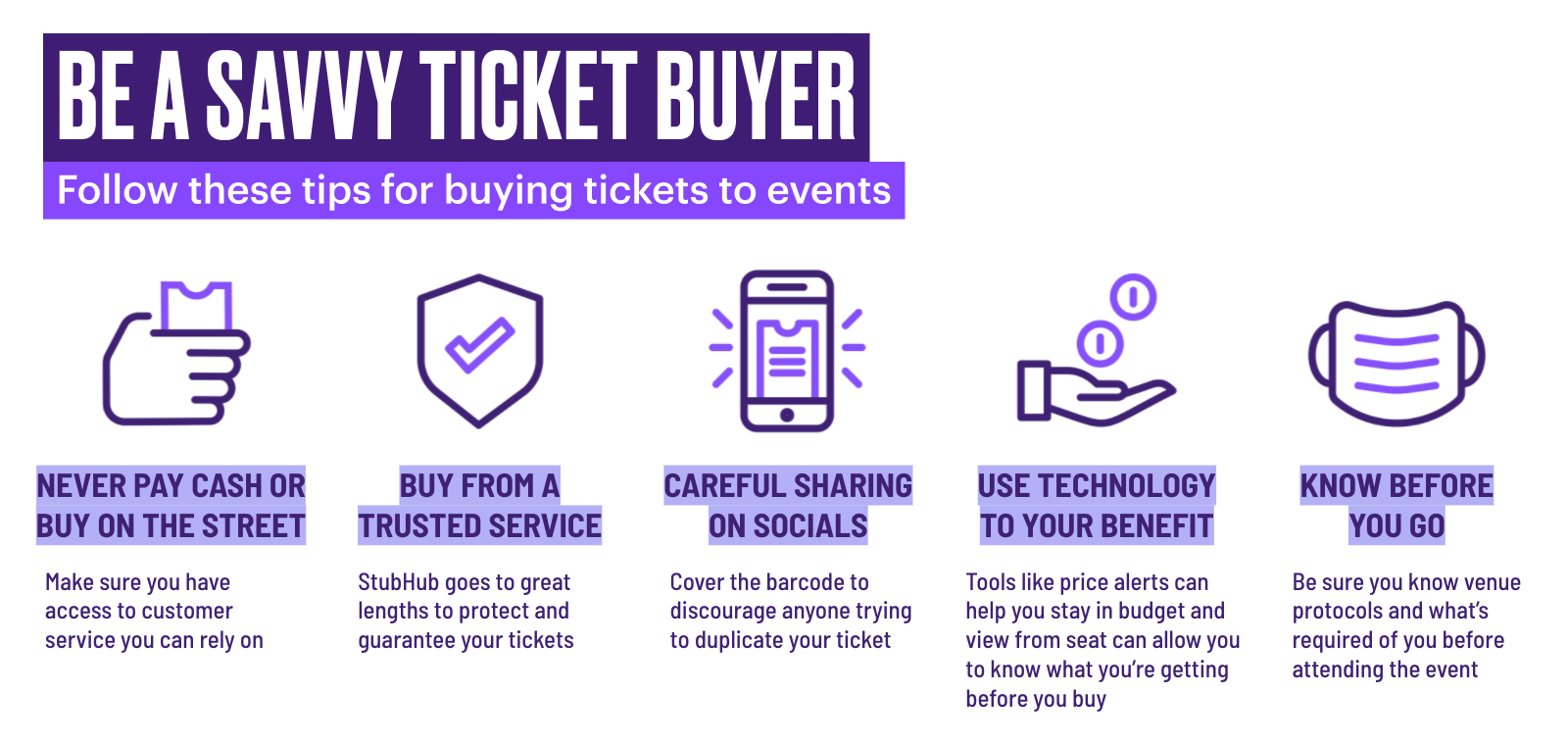 About StubHub
At StubHub, our mission is to bring the joy of live to fans globally. As the world's most trusted ticket marketplace spanning 44 countries, we enable fans to buy and sell tickets to tens of thousands of events, whenever and wherever fans want to be. Backed by award-winning customer care, StubHub's FanProtect™ Guarantee means every ticket is guaranteed valid or you'll receive a replacement ticket of equal or better value, or your money back. Our business partners include more than 130 properties across the NFL, MLB, NBA, NHL, MLS, NCAA and Paciolan. StubHub provides the total end-to-end event going experience throughout the world. For more information on StubHub, visit StubHub.com or follow @StubHub on Twitter, Facebook, Instagram or LinkedIn.