StubHub's 2021 College Football Preview: Alabama Crimson Tide is #1 In-Demand Team; Georgia-Clemson is Season's Hottest-Selling Game
StubHub, the world's most trusted ticket marketplace and official partner to over 80 NCAA collegiate sports programs, today announced the return of its annual College Football Preview, breaking down the most in-demand teams and hottest-selling games of the upcoming season. With fan excitement on the rise ahead of the return of football season, ticket sales to-date on StubHub for 2021 college football games are on par with sales for the 2019 ahead of the season.
Highlights include:
Alabama Crimson Tide lead StubHub's Top 10 In-Demand teams, followed by the Penn State Nittany Lions in #2 position and Michigan Wolverines in #3 position
Georgia-Clemson in the "Duke's May Classic" is the season's #1 most in-demand matchup 
Arkansas Razorbacks see the biggest jump in ticket demand – sales have increased by over 400% in comparison to 2019, largely driven by their game against Texas on September 11

MOST IN-DEMAND TEAMS AND GAMES 
Following Alabama's thrilling National Championship win earlier this year, the Crimson Tide are seeing more ticket sales than any other team, securing the #1 position on StubHub's Top 10 list from their #4 ranking in 2019. This year's list also sees Penn State rising to #2 from their #5 spot in 2019, with Michigan closely following at #3. 
The Clemson-Georgia season opener on September 4 is the top-selling game of the season on StubHub, commanding more ticket sales than any other matchup. Alabama also makes a strong showing in StubHub's ranking of the season's hottest-selling matchups, with the Crimson Tide playing in six of the top 10 games. 
"At StubHub, we're seeing remarkable demand from fans who have been eagerly waiting for the start of college football season," said Akshay Khanna, general manager of StubHub North America. "We're encouraged that ticket sales for 2021 college football games are tracking with sales from 2019 ahead of the season – and this demand is especially driven by fervent Crimson Tide fans, who landed Alabama at the top of StubHub's list of highest-selling teams for the first time in ten years."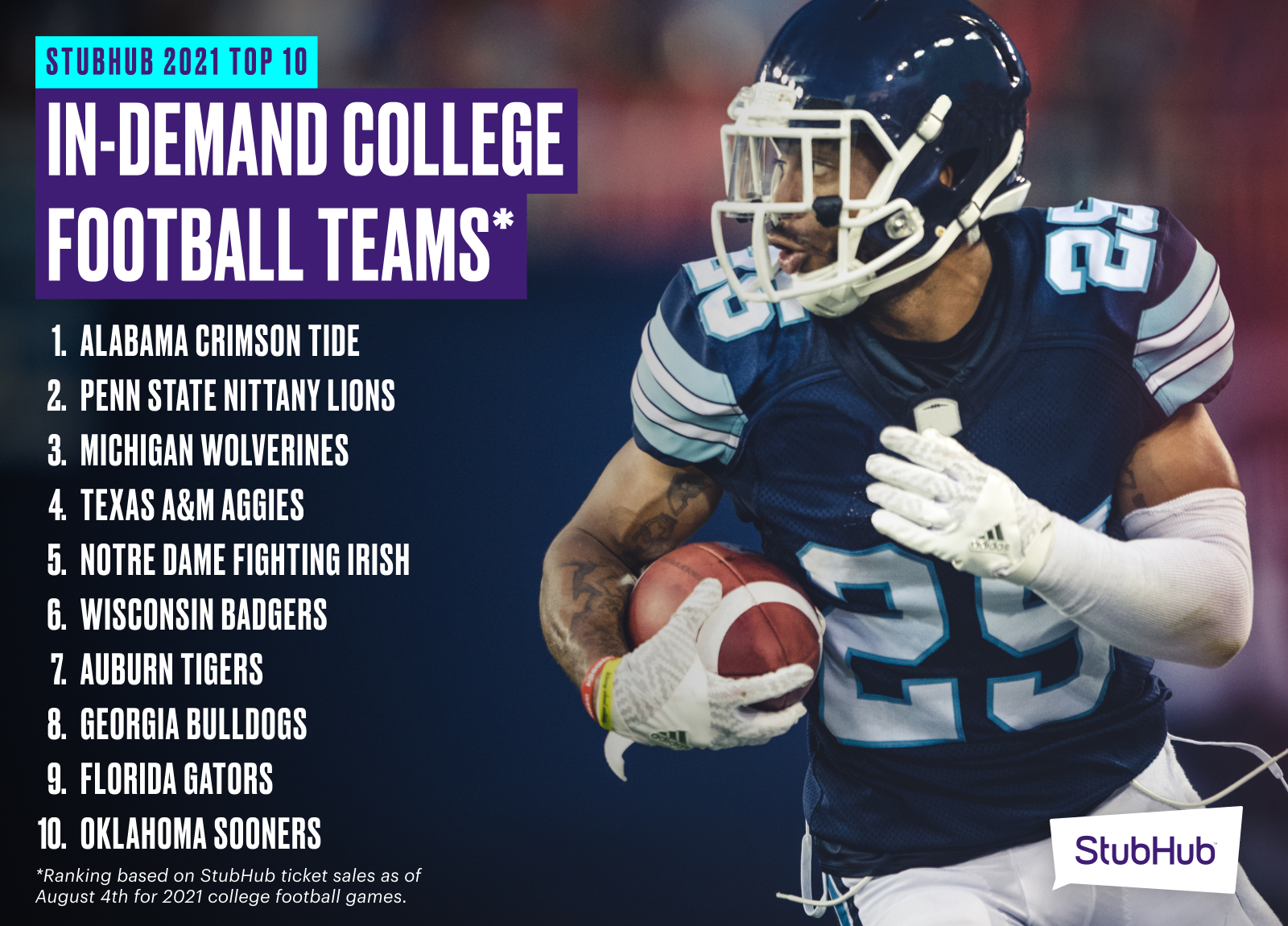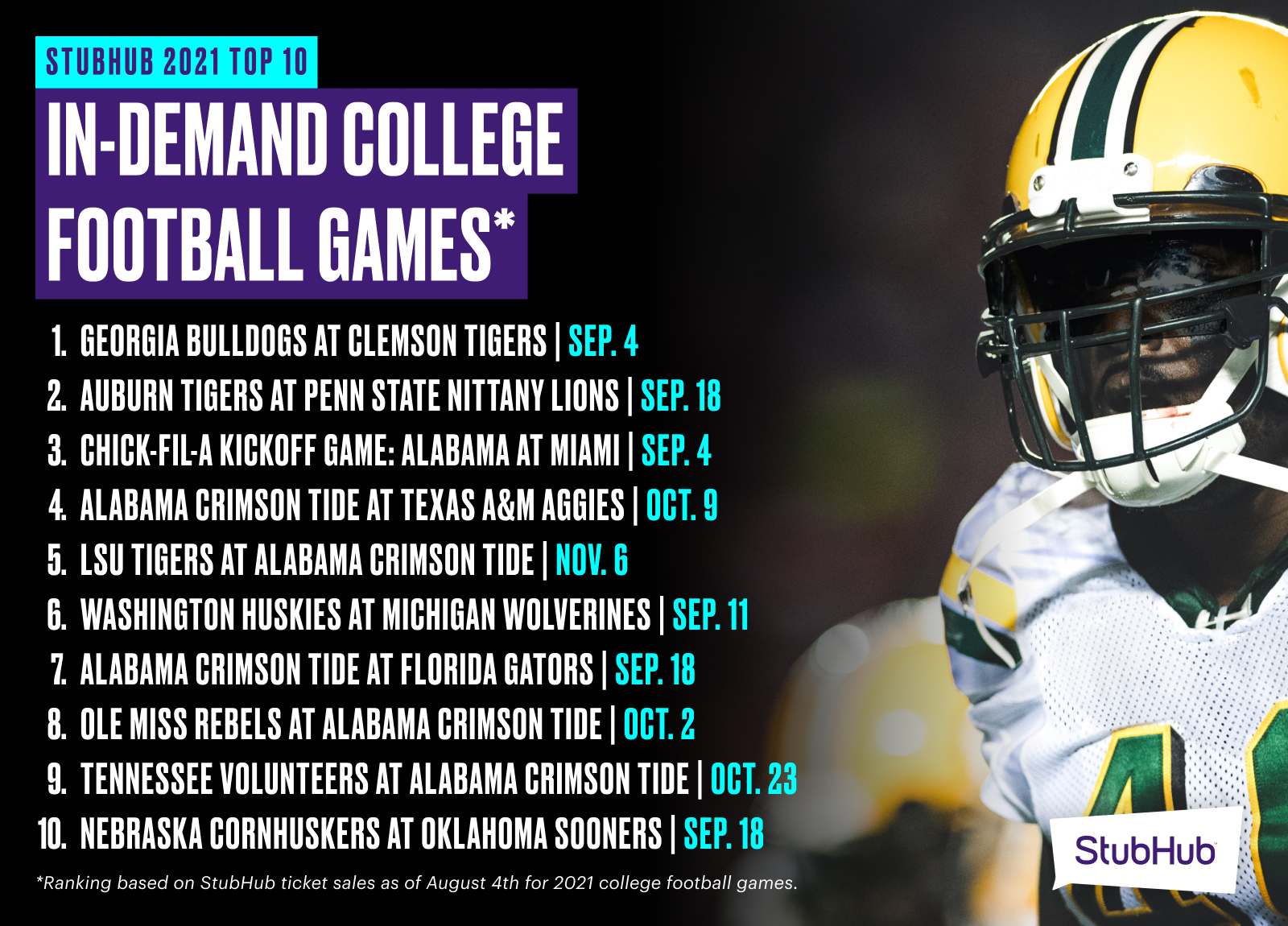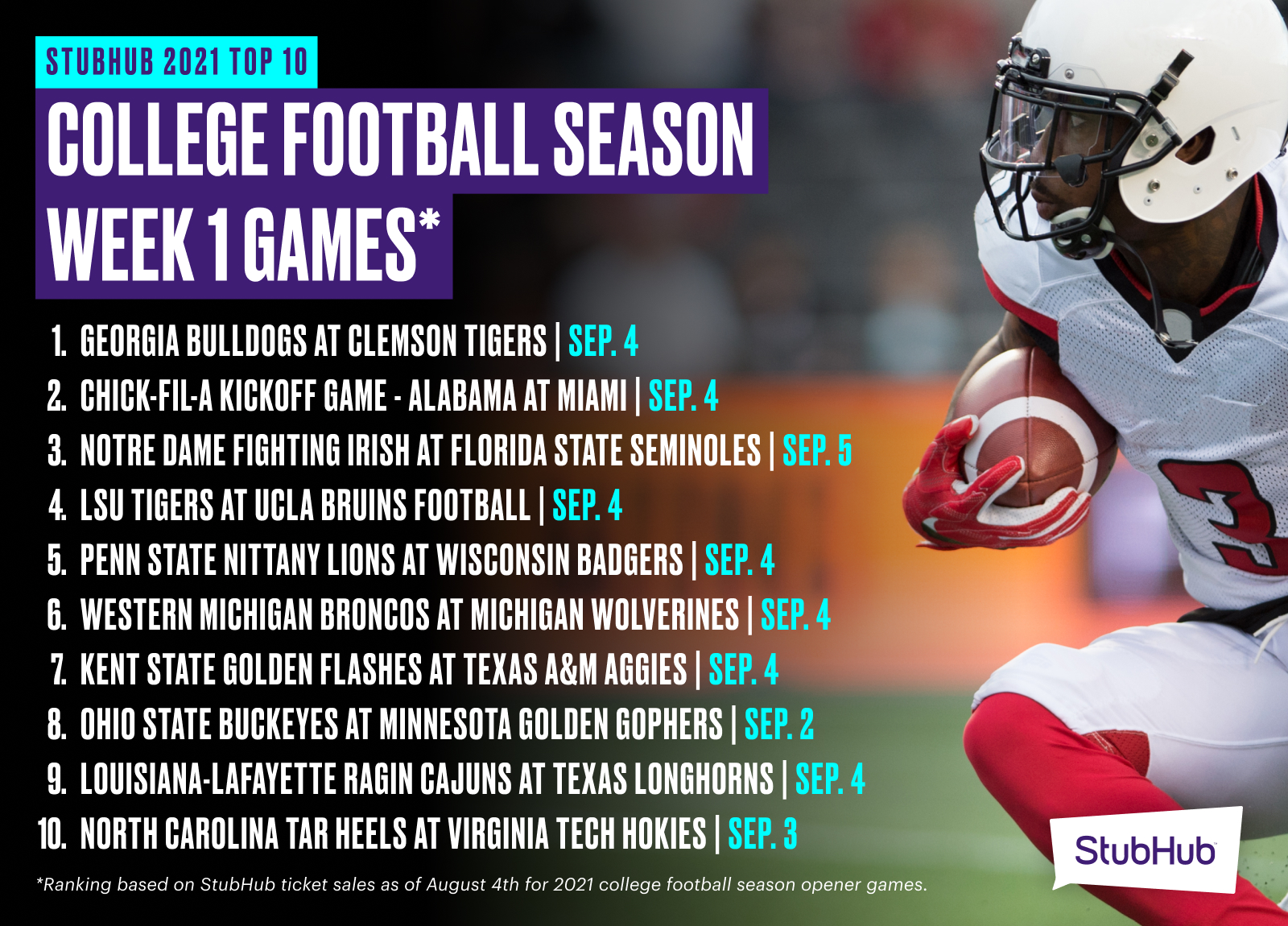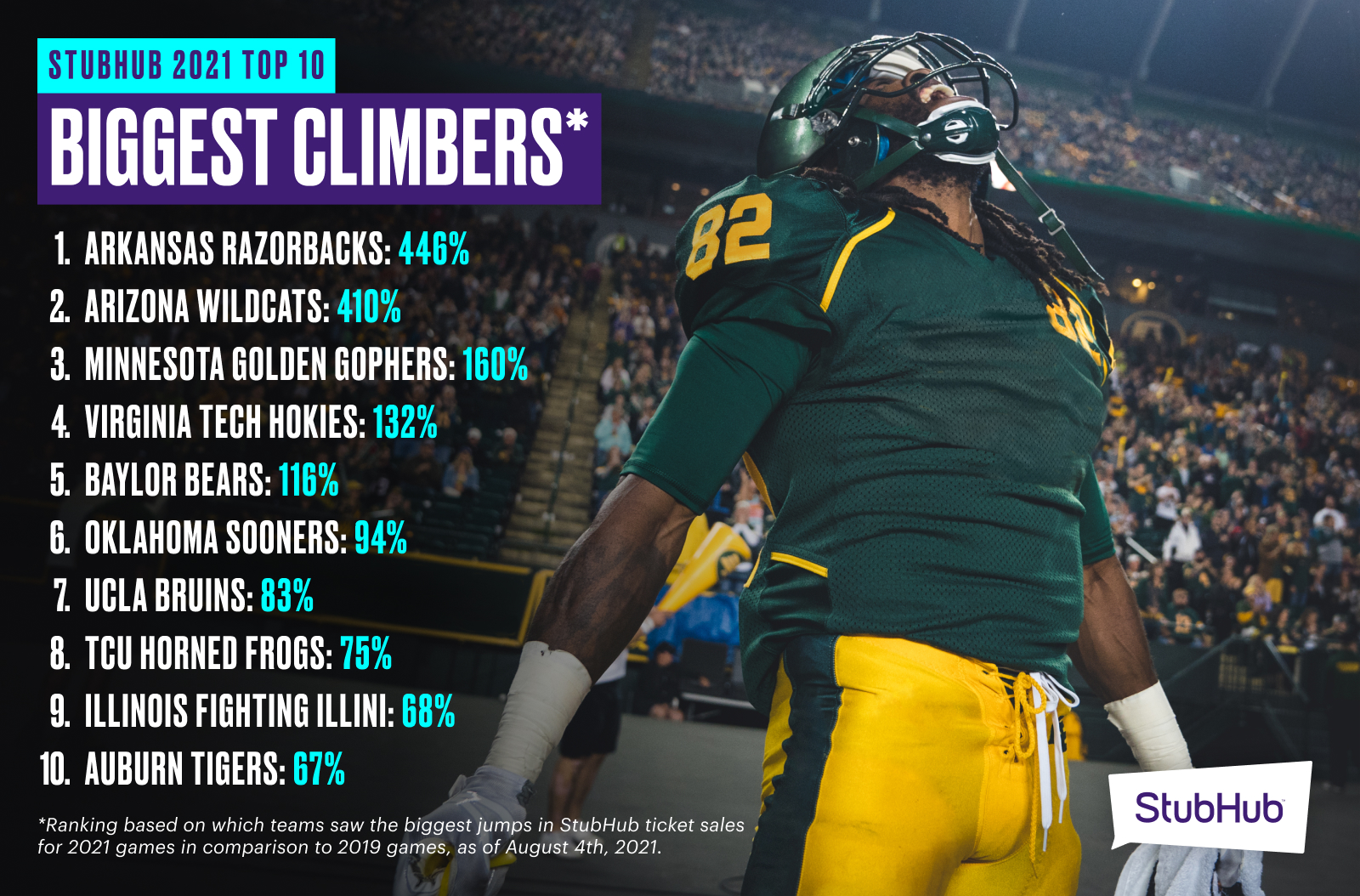 StubHub is partnered with over 80 schools across the country, adding Notre Dame, UCLA and Kansas State to its roster this year. To purchase tickets to college football games this season, click here.

As an official partner of many NCAA teams, StubHub wants to make sure fans have these tips to be safe ticket buyers: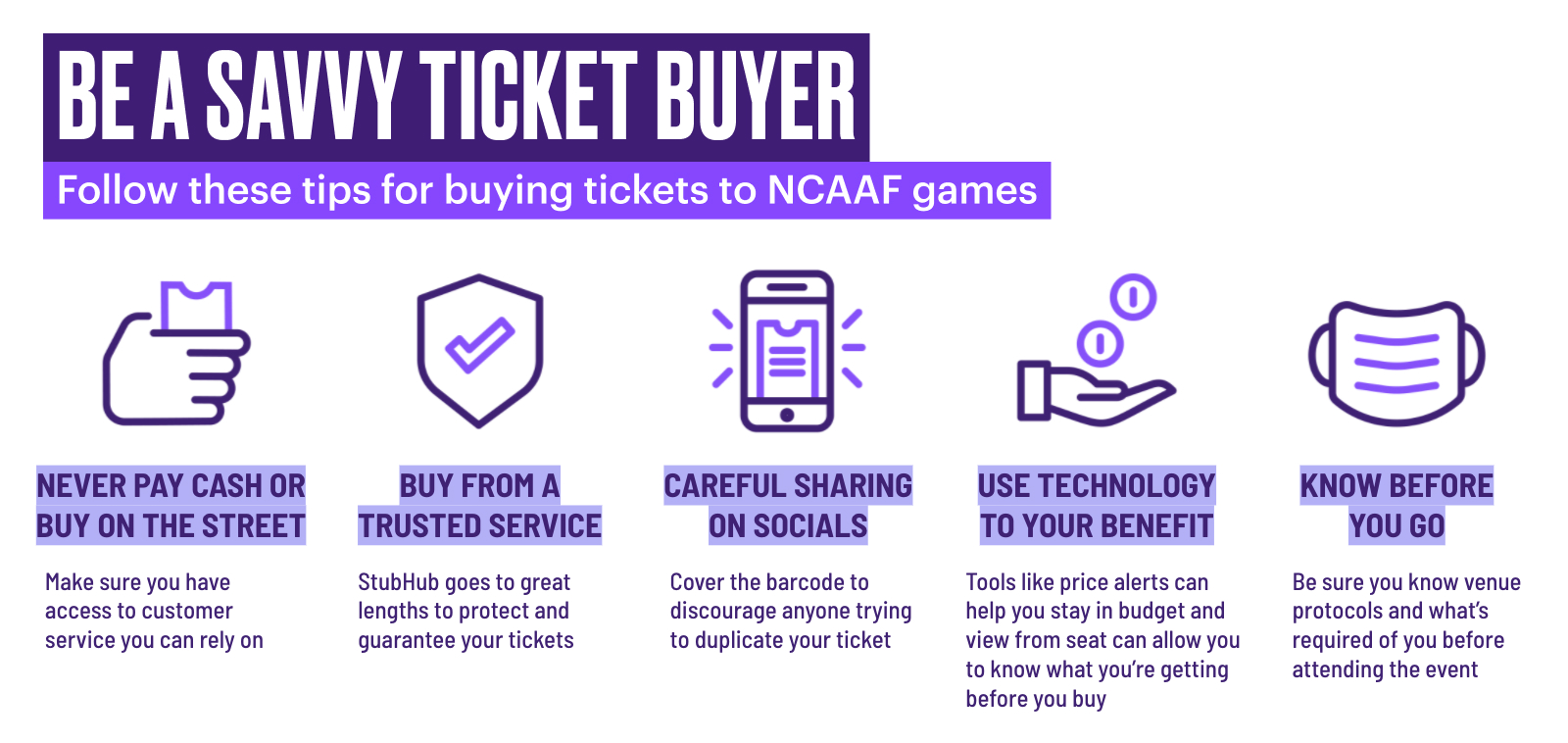 About StubHub
At StubHub, our mission is to bring the joy of live to fans globally. As the world's most trusted ticket marketplace spanning 44 countries, we enable fans to buy and sell tickets to tens of thousands of events, whenever and wherever fans want to be. Backed by award-winning customer care, StubHub's FanProtect™ Guarantee means every ticket is guaranteed valid or you'll receive a replacement ticket of equal or better value, or your money back. Our business partners include more than 130 properties across the NFL, MLB, NBA, NHL, MLS, NCAA and Paciolan. StubHub provides the total end-to-end event going experience throughout the world. For more information on StubHub, visit StubHub.com or follow @StubHub on Twitter, Facebook, Instagram or LinkedIn.